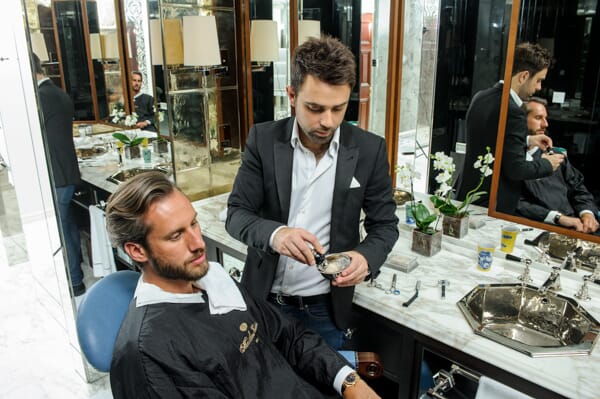 Treat yourself, friends or colleagues to the luxury of a male grooming session with the Matthew Curtis Salon. You could be looking at your absolute sharpest for that big night out, client presentation or wedding  with a newly groomed look to show off.
You'll enjoy a relaxing drink on arrival, have your hair cut and styled, beard-trim or cut-throat shave, and receive loads of tips from your stylist about how to make the most of your looks. This package would make a great gift for your partner, a great way to spruce him up and show him off at his best!
About Matthew Curtis Salon……
Multi-award winning salon stylists, Matthew Curtis is a name familiar with top celebrities, fashionistas and the world's leading fashion magazines. With four premium hair salons in London at the 5* Rosewood Hotel, Stratford, The Cotswolds and Staffordshire, celebrity clients include the likes of Victoria Beckham, Alicia Keys, David Gandy, Elle McPherson, Cheryl Cole and Daisy Ridley, to name just a few. Regulars at the New York, London, Paris and Milan Fashion Weeks, along with other catwalk and award events, Matthew Curtis Salon has worked on Vogue cover shoots and high profile TV and media commissions including Britain's Next Top Model. At Gala Events, we are delighted to offer a range of bespoke packages in partnership with one of the world's leading salon, fashion and session stylists.
Our stylists are highly trained to use both clippers and cutthroat razors, combined with an eye for detail to create the appearance that you desire. Alongside refining your style, Throughout the experience you will have the opportunity to have personalised styling tips from the Matthew Curtis celebrity stylist team.
Read more
Need some help?
We're online!
Need some help?