Why Gala Celebrity Experiences are the closest you'll ever get to your heroes
There's nothing more exciting than a brush with fame. It's a buzz just spotting a celebrity as they pass on the street. Now imagine the thrill of stepping into the inner circle of your favourite star – shaking their hand, swapping a joke, teaming up for a one-off activity and leaving with a personalised keepsake that brings all the memories back.
At Gala, we're in the daydream business – and nothing will have you pinching yourself like our Celebrity Experiences. As the ideal stepping stone between our online events and full-scale corporate hospitality, our Celebrity Experiences combine stardust and peace of mind, with intimate groups, safe activities and handpicked venues that follow the latest distancing guidelines.
The biggest names, all at our fingertips
Pick a celebrity, any celebrity. That could be a World Cup-winning footballer, a reality TV star, a headline-grabbing politician or a captain of industry. While other corporate hospitality providers get knocked back by agents and management, Gala has a proud history working with all the UK's biggest names, and a hotline to the stars who are usually off-limits.
Choose boxing giants like David Haye to Carl Froch. Olympians from Roger Black to Steve Backley. Business tycoons including Karren Brady and Duncan Bannatyne. Westminster heavyweights from William Hague to Michael Portillo. Icons of the beautiful game like Glenn Hoddle and Paul Gascoigne. Only Gala can bring you the faces you've known all your life – and because the stars know we host the best corporate hospitality, they're always happy to go the extra mile with celebrity experiences you probably didn't even know were possible.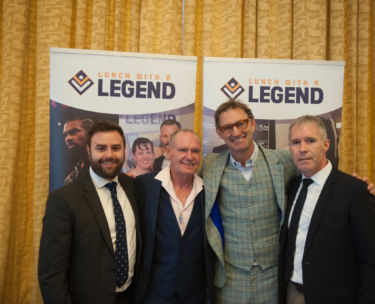 Unforgettable client entertainment, with personalised keepsakes
Go beyond the standard handshake and selfie, as you dive into exclusive activities where your celebrity guest becomes your coach, tour guide, team-mate or teacher. Of course, everyone's fantasy day out looks a little different, so our exhaustive programme of celebrity experience hospitality has something for everyone.
Boxing-mad sales team? Bring them to David Haye's own private London gym, where they'll glove up with tips from the big man and pop career questions at the Hayemaker over a premium buffet lunch. A key client with gourmet tastes? Invite them to a wine-tasting and five-course lunch cooked by a MasterChef winner and hosted in a luxurious private dining room. A legal department who live for the golf links? Ask us about all-star 4-ball golf hospitality at a Ryder Cup venue.
Maybe you'll face down Greg Rusedski's record-breaking serve at Queen's. Tour the House Of Commons before lunch with former Speaker John Bercow. Pick up business tips watching a celebrity tycoon make a speech just for you at the London Stock Exchange. Whatever you choose, don't forget to keep your celebrity experience hospitality feeling like yesterday with personalised souvenirs that span from signed sports shirts to professional video footage.
At Gala, we don't believe in impossible. Get in touch today on 0800 195 4250 or sales@galahospitality.co.uk, and let's start dreaming up your own celebrity experience hospitality.