Gala Events are proud to offer first class hospitality for all the major domestic and international matches at Headinley.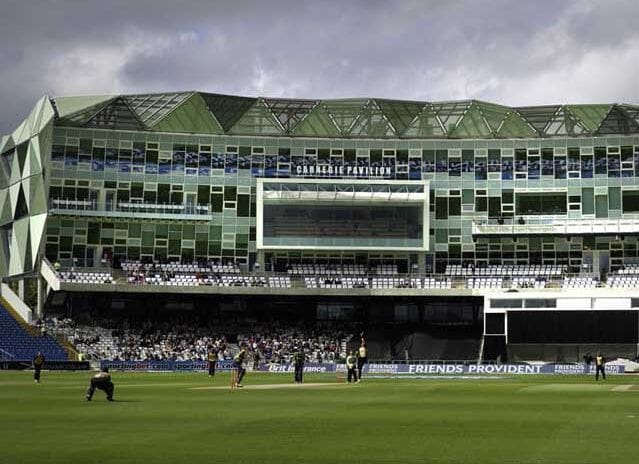 What we offer at Headingley......
Our top class facilities at Headingley offer some of the best views of the action, both from within the suites and from the superb viewing balconies and match seating. Guests will also enjoy fantastic catering options and a complimentary bar.
So kick back and enjoy  our international cricket hospitality options as Joe Root leads the likes of Jimmy Anderson, Ben Stokes and Stuart Broad into battle against the tourists or our domestic hospitality options for both the Vitality Blast or the hotly anticipated The Hundred competition.
Frequently Asked Questions

How can I see what Headingley hospitality packages are available?

How far in advance do I need to book?

It is always best to book as early as possible to ensure access to the best facilities possible.

The package I'd like to book is showing online as "POA", what do I do?

How will I receive my Headingley corporate hospitality tickets?

You'll receive your Headingley corporate hospitality tickets via email.

What's the best way to get to Headingley Stadium by car?

If travelling by car there are clear direction signs to lead you from the motorway and major road networks to the Headingley area.

What's the best way to get to Headingley by train?

Headingley Cricket Ground is around a 10-15 minute drive from Leeds City Station. Headingley Station is on the Harrogate Line and is a 10 minute walk from the ground. Please note that the initial part of this walk is slightly uphill. Trains run half-hourly from Leeds City Station and should take around 12 minutes. Burley Park Station is also on the Harrogate Line and is a five minute walk from the ground. Trains run half hourly and should take around five minutes. If travelling from Leeds City Station this is your recommended station to use.

Can I use cash at Headingley?

Headingley Stadium's catering and retail outlets are operated as cashless.

Can a friend take my place halfway through Headingley corporate hospitality event?

No, sorry. Tickets are non-transferable, so you can't pass them on to friends and colleagues after entry.

I have a large group I wish to book for, can this be done online?

Yes, as long as there is availability. Once you have chosen which event, package and date you wish to book, you will then have the option to choose the amount of places you wish to purchase.

Can I alter my booking at a later date?

Subject to our Terms and Conditions and availability, your booking cannot be altered. Although, we will always do our best to accommodate changes.

What are the conditions of sale when I purchase packages?

In order to complete an online booking, you will need to read and accept our Terms & Conditions when prompted to do so.

Will all of my party be seated together?

Yes, when you book your hospitality event, we will try our best to ensure that all of your party are sat together. We will be able to clarify groupings with you at the point of booking.