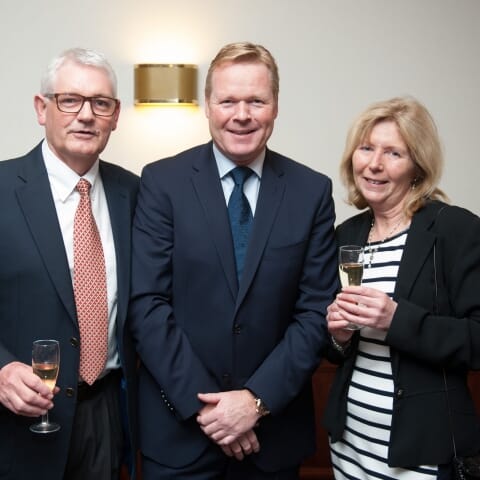 Event Showcase
/
Sporting Dinners & Lunches
An Evening with Ronald Koeman!
View 14 photos
Ronald Koeman
Over 200 football fans joined us in Southampton for our final big event of 2015, as Saints boss Ronald Koeman wowed the packed Mayflower Suite at the Grand Harbour Hotel. The venue looked resplendent, as guests arrived to a welcome glass of fizz, before settling down for a delicious three course dinner. Before dinner, many of our Gold package guests took the opportunity to have a photograph of their party taken with the great Dutchman for posterity, and Ronald was a real gentleman, signing autographs with a smile throughout!
The Dutch legend has enjoyed a lifetime at the top in football; a freescoring centre back for a number of the world's top clubs including Barcelona and Ajax, his achievements at club level are astonishing, with many league titles and cup triumphs on his CV. Most famously, he was a key part of Johan Cruyff's 'Dream Team' at Barcelona, which dominated La Liga, winning 4 consecutive titles in the early Nineties.
At international level, Ronald won an impressive 78 caps, scoring 14 goals, a great return for a defender by any measure. He was a mainstay of the side which won the Euro '88 Championships, playing in a fabulous side alongside the likes of Marco van Basten, Ruud Gullit and Frank Rijkaard, and later on with Arsenal legend Dennis Bergkamp.
But for Southampton fans, the real treat was having the Premier League boss all to themselves. As Ronald took to the stage, the buzz in the room was palpable. He soon got into his stride with the mike in hand, telling the captivated audience about how he lived, breathed and ate football as a youngster and his mother had to personally come down to the park to bring them home as darkness fell! It was particularly fascinating hearing from the Dutch legend about his compatriot Johann Cruyff, and how he single-handedly changed the face of Spanish football by breaking the dominance of Real Madrid with his Barcelona 'Dream Team'.
Ronald then revealed that the best player he ever played with was goalscoring superstar Marco van Basten, whilst the opposition player who most troubled him at the back was the Liberian former World Player of the Year George Weah, who made such an impact in Serie A with AC Milan.
There was some great banter about the Premier League, both regarding his experiences at Southampton, and his relationship with fellow managers such as Jose Mourinho and Louis van Gaal, both of whom he knew well from his time at Barcelona.
It was a first class evening, and judging by the late finish, there will have been a few bleary eyes at work on Wednesday morning! Our thanks go to the staff at the Grand Harbour Hotel for looking after us so well, to our many guests for making it such a successful night, and most of all to Ronald Koeman – what a legend!
Read more