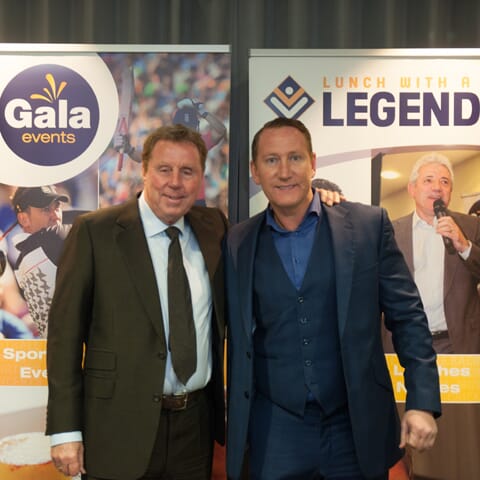 Event Showcase
/
Sporting Dinners & Lunches
An Evening with the Football Characters at Edgbaston
View 20 photos
Harry Redknapp & Ray Parlour
Over 300 guests joined us in the Banqueting Suite at Edgabston Stadium for our pre-Christmas 'Evening with the Football Characters'. Our VIP guests for the evening were managerial legend, Harry Redknapp, the 'Houdini' of the modern game, and former Arsenal and England midfielder 'Romford Ray' Parlour. With two such big personalities as our speakers it promised to be a cracking evening's entertainment!
After enjoying a pre-event drinks reception, and a photo opportunity with our speakers, out VIP clients joined the rest of our guests for the evening in the Suite. A delicious 3 course dinner was then served, delivered as always with trademark efficiency and service by the great team at Edgbaston.
First up on stage was Ray Parlour, whose speech will live long in the memory of all who attended. Lifting the lid on THAT Arsenal dressing room, was a source of much hilarity in the room. The booze-fueled antics of the likes of Paul Merson, Tony Adams, Martin Keown and Ray himself, in a side which won numerous trophies, were lapped up by the audience.
Some truly great players from the continent played alongside Ray, not least the likes of Denis Bergkamp and Marc Overmars. It was fascinating to hear about how they fitted in to the culture of English football which was so different to that in the Netherlands. Ray also talked about some of his career highlights, including an incredible three League titles, four FA Cups, a League Cup and a European Cup Winners' Cup.
After Ray departed to rapturous applause, next up to join host Tom Ross on stage came one of football's most recognisible characters, Mr Harry Redknapp. Harry is an absolute wealth of football anecdotes and jokes, having managed numerous top flight clubs over a period of 30 odd years. He soon had the audience in stitches, with tales of some of the players he had worked with over the years.
Hearing about the mercurial genius Paolo Di Canio was particularly memorable, with the madcap Italian driving Harry to distraction with his antics on many occasions. Harry shared his opinions on the worst players he'd ever signed too (no names mentioned!), and shared some of the highlights from his long career. His insights into the England manager's job, one which he was linked with on many occasions during his career, were particularly enlightening.
With the room buzzing as Harry completed his turn, Ray then joined him on stage for some guest Q & A. At the close of proceedings on the stage, many guests stayed on for a few more drinks as befitted the occasion. We would like to thanks Harry and Ray for being such great 'characters', the staff at Edgbaston, and the huge number of clients who came to our event, making it the most successful November dinner yet!
Read more