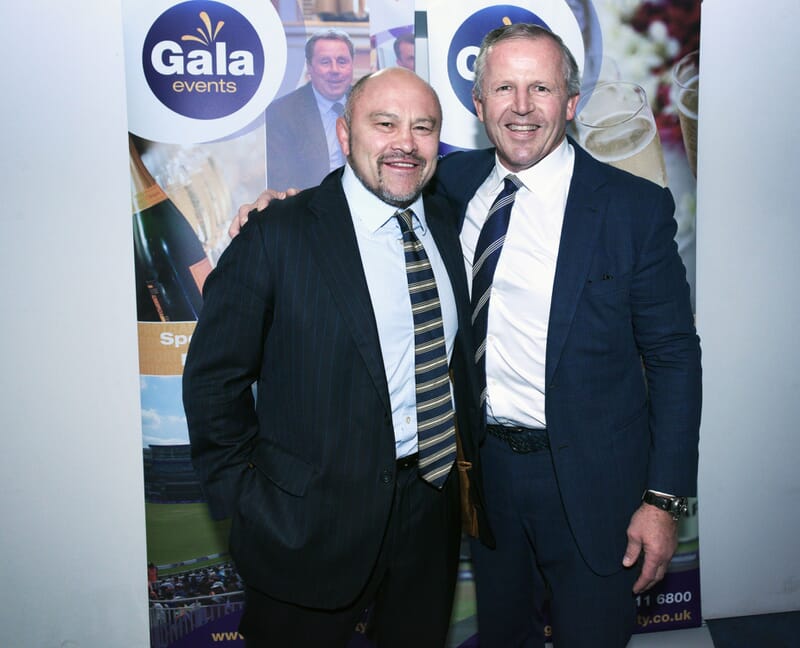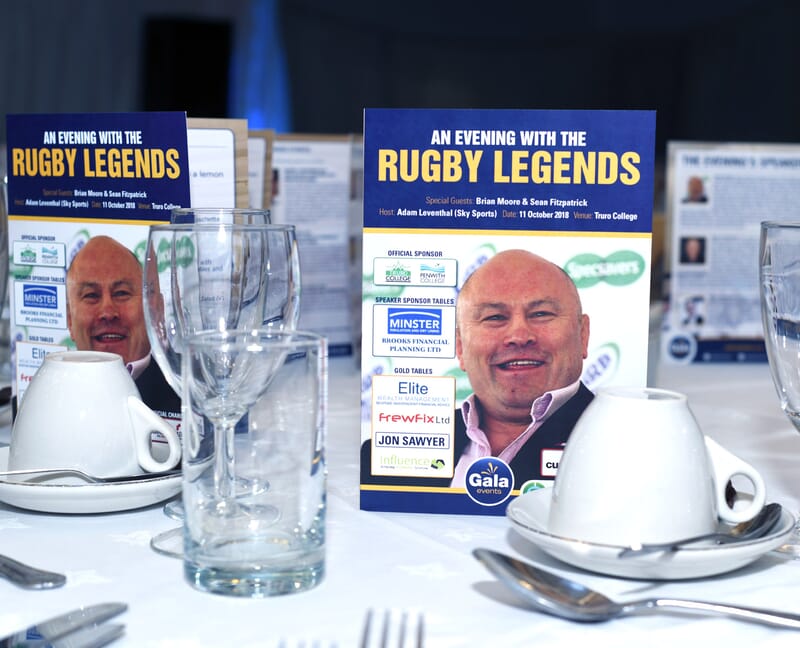 Event Showcase
/
Sporting Dinners & Lunches
An Evening With The Rugby Legends
View 22 photos
Brian Moore and Sean Fitzpatrick
A full house of guests and clients joined us in our VIP Suite in Truro for an Evening with the Rugby Legends. We were thrilled to welcome two front row foes from England and New Zealand respectively, the fearsome Brian Moore and Sean Fitzpatrick. England legend Brian won 64 caps for his country and was a key member of the England side which won Grand Slams in 1991, 1992 and 1995. After winning the World Cup with New Zealand in 1987, Sean Fitzpatrick went on to cement his status as one of the game's all-time great captains, being revered even in a country renowned for rugby greatness.
The bar was doing a roaring trade, as guests enjoyed a three-course dinner, in anticipation of the two old rivals taking the stage. Our regular host at our Cornish events, Sky Sports presenter Adam Leventhal, marshalled events well, and guests enjoyed hearing about some of the 'Dark Arts' of forward play from two men who never took a backward step on the field.
Brian Moore was as quick-witted as they come. Host Adam Leventhal put him on the spot by challenging him to come up with an anecdote or description of every player on our "British Lions Legends" frame, and he had people in fits of laughter as he quietly assassinated the character of all the greats involved – all good tongue-in-cheek stuff! Sean gave the lowdown on the greatest All Blacks he had played alongside, singling out Jonah Lomu as his number one, with honourable mentions to the likes of Zinzan Brook and Grant Fox.
Hearing these two greats go back and forth in a semi-competitive spirit trying to outdo each other for laughs was a real treat! It's also clear that they both can still hold their own with a few beers on board, as numerous pints were delivered from fans to the stage for our thirsty speakers to knock back!
The rugby chat on stage went on for well over an hour, and guests stayed late into the evening, with one or two sore heads no doubt the next day! Thanks to all of our guests for supporting the event, and to Ieaun and Mike, and host Adam for a great evening.
Read more