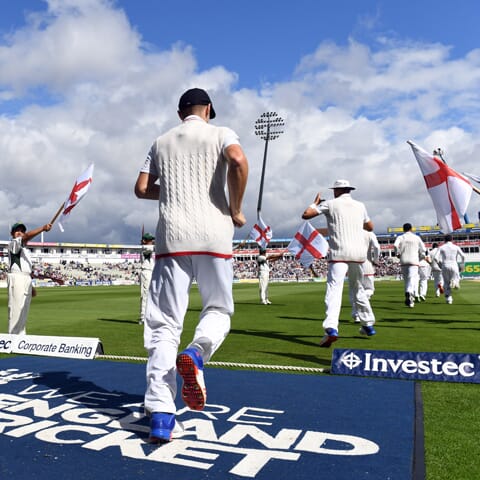 Event Showcase
/
Sporting Dinners & Lunches
England v Pakistan at Edgbaston: 3rd Test Day Two
View 16 photos
Dominic Cork and Michael Vaughan
Almost 80 guests attended our sold out day in Edgbaston's Wyatt Suite to see the second day of the 3rd Test match. Our very special guests for the day were former England all rounder and current SKY Sports pundit Dominic Cork, and ex England captain and batting legend Michael Vaughan, one of the key voices on Test Match Special.
Guests arrived to a welcome glass of fizz to accompany a delicious breakfast, before settling down to hear from our two cricketing heroes. Both were in typically eloquent and insightful form, discussing the prospects for England after a tricky first innings display on Day 1, making a total of 297. Both Dominic and Michael agreed it wasn't a bad batting track by any means, and England had almost certainly underperformed. It was fascinating to hear a few stories from their own careers too, and guests were able to have photos taken with our illustrious pair. It set the day up nicely for the cricket!
As it turned out, it was to prove a very hard day in the field for England, as Pakistan's top order showed England what could be achieved on this pitch with a little more application, despite the loss of Mohammad Hafeez to the fourth ball of the day from Jimmy Anderson. Azhar Ali's tenth Test century was a study in gritty application, sharing a second wicket stand of 181 with the impressive youngster Sami Aslam. It was a real return to form for the Pakistan opener Ali, who had amassed just 39 runs in his previous 4 innings this series. He was dropped twice, once by Root on 38, and then a difficult one for Moeen Ali on 69, but he thoroughly deserved the plaudits as the best player of the day.
After guests enjoyed a cracking lunch in the Wyatt Suite, play continued into the second session with the Pakistan pair completely dominant. Without a wicket in sight, afternoon Tea was served during the interval, and with the young opener Sami Alsam closing in on a century, his fine innings was brought to an unfortunate end on 82, as he was run out by a sharp through from James Vince, with England desperate for a breakthrough. Hopes were high for a flurry of wickets.
But the breakthrough did not bring immediate further success. Younis Khan was unconvincing, repeatedly being beaten as he continued to move around the crease, but survived to reach the close with 21 off 68 balls. However, there was one final twist; Azhar was one delivery away from walking off unbeaten with him only to jab at Chris Woakes' final ball and send the edge to Alastair Cook at first slip to give England renewed hope for day 3.
Although a disappointing day in the field, it was a pleasure to witness some fine batting from a Pakistan side desperate to put right some very shaky batting earlier in the series. Our guests enjoyed a super day in the Wyatt Suite, with food as always superb, and washed down with plenty of drinks from the complimentary bar. Our thanks go to everyone who attended, the fantastic staff in our Suite, and especially to Dominic Cork and Michael Vaughan for an entertaining pre-match cameo!
Read more