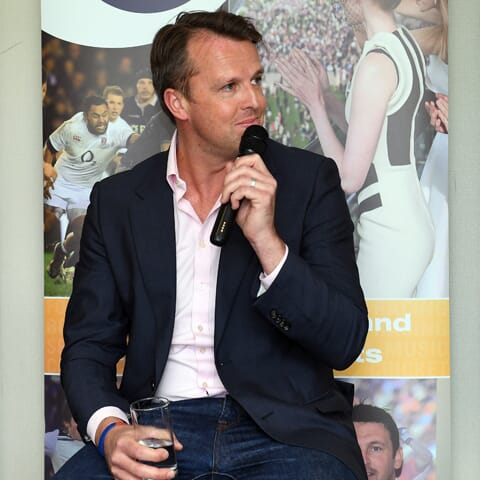 Event Showcase
/
Sporting Dinners & Lunches
England v Sri Lanka ODI at Edgbaston
View 15 photos
Steve Harmison and Graeme Swann
Edgbaston's Wyatt Suite was packed with Gala clients for the match between England and Sri Lanka, the second of the Royal London One Day International Series. We were thrilled to be joined by two very special former England stars prior to the match starting; fast bowler Steve Harmison, and record breaking off spinner Graeme Swann. It was a day which will live long in the memory as records tumbled, in a memorable England victory.
After arriving at mid-day, guests were treated to a lengthy Q & A with our star guests, who discussed their respective England careers, and gave their thoughts on the day ahead. It was fascinating to hear from two men who have been so instrumental in the resurgence of the England side at Test level; Harmison will always be remembered as a key player in the legendary 2005 Ashes series, whilst Graeme collected numerous Ashes victories in his record-breaking career as England's leading spin bowler.
After a typically delicious lunch in the Wyatt Suite, the action out on the pitch started at 2pm, with Sri Lanka going into bat. England bowled very well on a good batting track, and despite fifties from Tharanga and Chandimal, the score at close of 254-7 looked light, with two wickets each for the excellent Adil Rashid, and recalled Liam Plunkett.
During the interval guests enjoyed a delicious Afternoon Tea, with a fine selection of finger sandwiches, cakes and fancies, and a few top ups at the complimentary bar! This set the scene nicely for what was to unfold.
In the event, England fans were to witness an astonishing performance by the two openers; Jason Roy and Alex Hales were in indomitable form, smashing the ball to all corners of the ground. It soon became clear that we were witnessing something special, as both men brought up their centuries, before going on to knock of the total undefeated. It was the highest partnership by an England pair in the history of One Day International cricket!
Once the action finished, hot meat rolls were served to the jubilant guests, and a few more drinks were taken in celebration! Our thanks go to the staff in the Wyatt Suite, to our many happy clients, and to Steve Harmison and Graeme Swann for being great sports and charming guests.
Read more