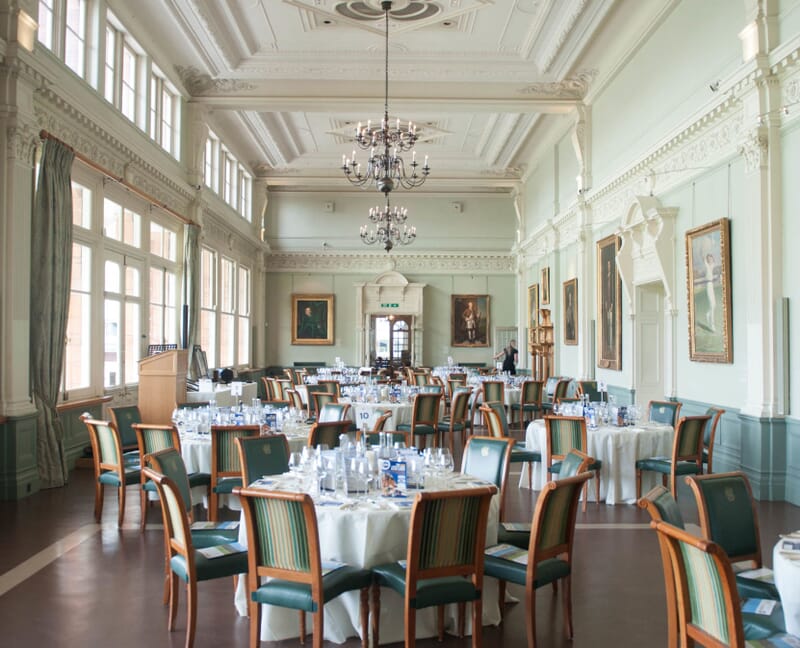 Event Showcase
/
Sporting Dinners & Lunches
Lords Long Room Lunch 2017
View 18 photos
Graeme Smith, Graeme Swann and Matthew Hoggard
Our Lords Long Room lunch entered its 5th consecutive year, as over 160 guests joined us in the hallowed hall to enjoy a superb afternoon of dining, drinks and cricketing chat. Entertaining us for the day were three huge names; England's record-breaking spinner Graeme Swann was joined by 2005 Ashes hero and veteran of 67 Test matches, Matthew Hoggard, and former South African captain and batting legend Graeme Smith, the world-record holder as a Test match-winning captain. With former Kent batsman, and Sky Sports cricket commentator, David Fulton as our host, the stage was set for a cracking afternoon.
Our Gold guests arrived early to join our three internationals in the Writing Room, for a glass of Champagne and a chat with the stars. Everyone had the opportunity to have a photo with our VIPs, and it was a great chance to spend a bit of quality time chatting about cricket with three legends of the game. By mid-day our Silver guests arrived, and everyone was seated for lunch by 12.30pm.
A delicious lunch was served which included seared tiger prawns with lobster jelly starter, roasted corn-fed chicken breast and confit leg, Dauphinoise potatoes and seasonal vegetables, and a delectable dessert. Coffee and petit-fours followed, along with plenty of free-flowing drinks from the complimentary bar.
We were thrilled once again by the vocal brilliance of the stunning Amelia Whiteman, who this year was joined by the lovely and talented Annelise Whittlesea. A number of our male guests were seen wiping a tear from their eyes, as we were treated to some beautiful takes on classics such as Ave Maria and Nessun Dorma! They departed to rapturous applause, and it was particularly poignant for Amelia as this was her final performance with us before moving away.
After enjoying lunch at the tables of our sponsor guests, the two Graemes and Hoggy were welcomed up to the stage by David to a great reception. What followed will live long in the memory, as marshalled by the impeccable David Fulton, our guests shared some superb stories from their careers, including some of the occasions they faced each other in battle on the pitch.
Highlights included hearing from Mr Hoggard about 'The Greatest Ever Series' in 2005, when England defeated one of the greatest sides in history to finally reclaim the Ashes. Some of the great moments in the series were relived such as the two run win in the Edgbaston Test when Steve Harmison got Mike Kasprowicz out, and Ricky Ponting's peerless century which saved the Old Trafford Test as the Aussies scraped a draw with 1 wicket to spare. Hearing about the antics of the celebrations, when the whole squad has been up all night drinking before meeting the PM Tony Blair, was riveting and hilarious.
Graeme Smith shared his love of playing in England, which is unsurprising considering his astonishing record with the touring South Africans. Whilst touring in 2003 he achieved the incredible feat of consecutive double centuries, firstly at Edgbaston where he scored 277, and then at Lords itself with a brilliant 259, which still stands as the highest ever score by a foreign player at the ground in a Test match. There was some great banter between the two bowlers and Smith, and just like when they faced each other out in the middle, he more than held his own.
Swanny was in typically ebullient and hilarious form, having guests in stitches with tales of touring with England. He dished the dirt on a few of his team-mates, with Stuart Broad and Jimmy Anderson coming in for some light-hearted ribbing. He was less gentle with one or two other former England team-mates, with whom there were definitely personality clashes. It was also very funny to hear Graeme talk about his relationship with Andrew Strauss, who so Graeme recalls, he had wrapped around his little finger. Depending on whether he fancied a bowl at the incoming batsman, Graeme would offer 'advice' which often meant suggesting throwing the ball to Jimmy or Broady if he didn't fancy his chances of getting the guy out! Fascinating stuff, told with the typical flourish of England's foremost spin bowler, and raconteur.
By the time our three legends took leave of the stage, everyone was buzzing and the atmosphere in the room was electric. A few more drinks were taken before time was called, and the curtain brought down on another cracking afternoon at the Home of Cricket. Thanks to Lords for an outstanding lunch service once again, to our VIP guests, and most of all to our cricket-loving customers for making the event such a success.
Read more