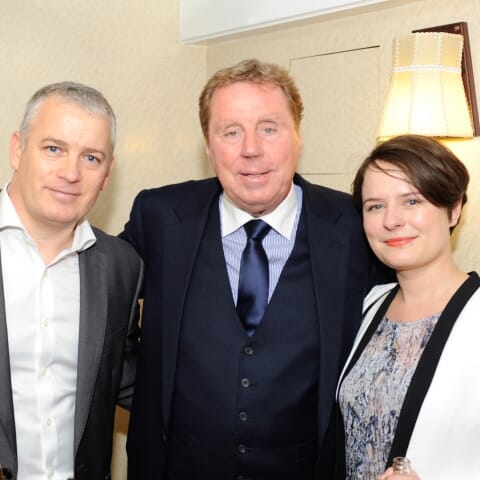 Event Showcase
/
Sporting Dinners & Lunches
Lunch with a Legend: Harry Redknapp!
View 15 photos
Harry Redknapp and Jim White
Gala Events held its first 'Lunch with a Legend' in November, with our inaugural 'Legend' being current QPR boss and former Spurs and West Ham manager, Harry Redknapp.  One of the game's true characters, and a managerial veteran with over thirty years' experience, Harry was joined by our host for the day, Sky Sports' Jim White.
This cracking afternoon took place on the magnificent and illustrious HMS Belfast, one of the most important and iconic Royal Navy warships of the twentieth century. The venue, now a floating museum moored just down from London Bridge, proved to be the perfect setting for the event, with great feedback from our customers regarding the quality of the food and outstanding service.
Arriving first, our VIP Table guests enjoyed drinks and group photos with Harry and Jim, before all the guests settled down for a superb three course meal. Harry then took centre stage, and what followed will live long in the memory, as he regaled the audience with plenty of hilarious anecdotes and tales from life at the managerial coalface. Ably cajoled by Jim White, guests were treated to his musings on managing maverick geniuses such as Paolo Di Canio, dealing with 'the shower upstairs' in the board room, and how he became known as 'Houdini' for saving clubs from near certain relegation time and again. It was a tour-de-force from the great man, and our guests knew they had witnessed something special!
Our thanks got to the staff on HMS Belfast for providing an outstanding venue and great food and service, to Sky Sports Jim White for being a consummate and amusing professional host (as always!), and most of all to Harry Redknapp for a hugely entertaining afternoon, as agreed by all who were at the event!
Our next 'Lunch with a Legend' takes place at the Oval cricket ground on Wednesday 21st May 2014, and features England's bowling legend Darren Gough, and current Sri Lankan record-breaking superstar Mahela Jayawardene. Book early to avoid disappointment, click here for details.