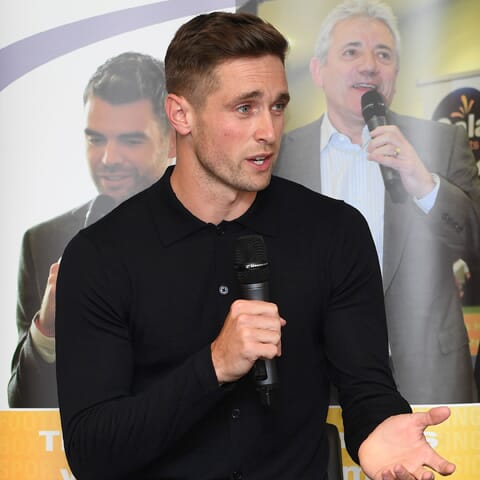 Event Showcase
/
Sporting Dinners & Lunches
Natwest T20 Blast Finals Day at Edgbaston
View 20 photos
Dominic Cork and Chris Woakes
The Natwest T20 Blast Finals day is now firmly established as one of the most exciting dates on the cricket fan's calendar. Once again we were thrilled to welcome a full house to the Wyatt Suite for a high octane day of big-hitting cricket in the company of two very special guests. England's firey former all-rounder and member of the current SKY Sports cricket pundit team, Dominic Cork, and current England all-rounder and recent Man-of-the-Series of the England versus Pakistan Test series, Chris Woakes.
Things might have been so different, as all eyes during the previous few days had been on some pretty shocking weather forecasts for the Saturday. In the event, good fortune smiled and other than a few very minor breaks for rain showers, the cricket went as planned, with no overs lost. Almost as big a shock as the turnaround in the weather was the cricket itself, with all three games on the day being won by the bookies' underdog!
After our guests enjoyed a delicious breakfast and a glass of fizz, first up in Semi-final one were Notts Outlaws taking on the Northamptonshire Steelbacks. Most pundits were predicting a victory for the Outlaws, but some stellar batting from England hopeful Ben Duckett with 84 off 47 balls, ably assisted by Alex Wakely's 53 saw the underdogs post an impressive 161-8, after being 15-3 early on. When England star Alex Hales was removed for a 2nd ball duck, a shock looked on the cards, and so it proved as wickets tumbled regularly and Notts fell 8 runs short of the Outlaws' total, finishing on 153-9.
Guests in the Wyatt Suite then enjoyed a delicious hot and cold buffet lunch, washed down with a few drinks from the complimentary bar, before taking seats for the second semi-final between a tough Durham side and the mighty Yorkshire, replete with England internationals. Durham batted first, and posted a decent but not overly daunting score of 156-6, helped by a belligerent 56 from England all-rounder Ben Stokes, off just 36 balls. Liam Plunkett weighed in with 2-22 in a tight spell, and it was game on as Yorkshire came out to bat.
Yorkshire looked well placed in the chase at 86-3, having recovered after Rushworth had removed Joe Root and David Willey cheaply. But the superb Mark Wood, who clocked above 90mph regularly, was rewarded for a brilliant spell when he yorked Bairstow with an unplayable delivery, and then had Ballance superbly caught second ball by the veteran Paul Collingwood at leg-slip. Rushworth then weighed in with his third wicket, removing Ashley Lyth with Yorkshire again poised, before the return of the irrepressible Wood, who skittled Tim Bresnan and Liam Plunkett, effectively wrapping up the victory for Durham.
Afternoon tea was then served in the Wyatt Suite, and we were thrilled to welcome Dominic Cork and Chris Woakes to the stage for some quality cricket chat. Dominic spoke about the difference in standard between Division 1 and 2 of the Championship and how players should move counties from Div 2 to Div 1, before being selected for England. He also said he would take all three of England's underfire batsmen (James Vince, Gary Balance & Alex Hales) on the winter tours to India and Bangladesh. Chris shared his delight with his performances this summer which have seen him become England's player of the series in the Test Series against Pakistan. He also spoke about how he has worked on adding a couple of yards of pace to his action, which has made a big difference to his increase in performance.
With the light starting to diminish the floodlights came on and the Final was in full swing as Durham faced off against Northants. Durham batted first and with wickets falling with alarming regularity, it was only thanks to a superb 88 from Keaton Jennings that the favourites managed to muster 153-8. It was a record innings for the T20 Blast Final. Ben Sanderson chipped in with 3 wickets, along with all of the bowlers contributing. The Steelbacks then came into bat, and another brilliant innings, this time from Josh Cobb, was the highlight, as he smashed 80 from just 48 deliveries. Once again, captain Alex Wakely played a pivotal role, ably supporting Cobb with 43 priceless runs, before being run out. In the end the fantastic Cobb turned the match, and despite being dismissed near the end the damage was done. And all this despite some truly fearsome fast bowling from Mark Wood.
It was a fantastic day's cricket, and the whole event just improves as an extravaganza every year. The music stage featured four bands over the day, with loads of other entertainment including the bungee ball, as well as plenty of traditional pyrotechnics.
Our guests enjoyed a fantastic long day of hospitality, hosted in great style by the Wyatt Suite and the brilliant staff. Our thanks also go to Dominic Cork and Chris Woakes for some great stories and insights before the final game.
Read more