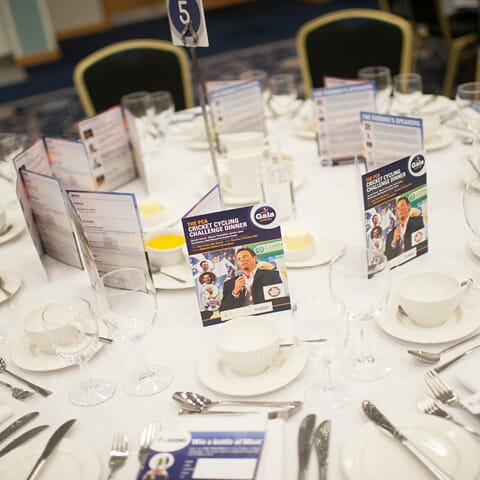 Event Showcase
/
Sporting Dinners & Lunches
PCA Cricket Cycling Challenge Dinner
View 14 photos
Marcus Trescothick, Matthew Hoggard, Tim Bresnan, Geraint Jones & Rob Key
A host of past England stars joined our guests and other personalities from County cricket for a prestigious dinner to celebrate the launch of the Big Bike Ride 3. After the success of the previous two years' rides, a record 80 cyclists departed the next morning to raise money for the PCA Benevolent Fund and the Tom Maynard Trust.
After a cracking three course dinner, a succession of cricketing personalities made there way to join host David Fulton on the stage to share a few stories and laughs from their careers. Veterans of the legendary 2005 Ashes series evoked memories of what many people regard as the greatest ever Test series, which included some of the most iconic moments of recent decades.
Other personalities included recent England star Tim Bresnan, and long-standing Kent captain, and former England opener Rob Key, and Glamorgan legend and father of Tom Maynard, Matt Maynard.
With a brilliant auction also taking place, the coffers were swelled for these two worthy causes, on what was truly a treat for the cricket fans in attendance.
Well done to all those players who set off the next morning on a 400 mile ride to raise money, especially those who had to shake off a hangover in the morning!
Read more