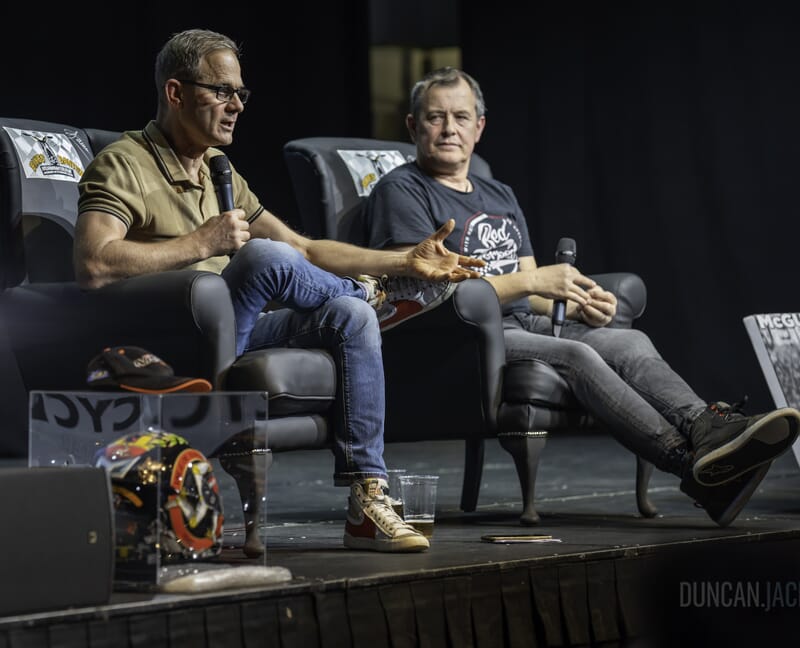 In what is sure to be an event to remember you are invited to join UK motorsport royalty James Whitham and John McGuinness for a thrilling evening at Strawberry Fields, Lifton, in support of local lad and up-and-coming British Superbikes star, Finley Arscott.
Guests will enjoy a delicious three course dinner, have the opportunity to meet James and John and hear tales from their careers from different views at the top of the motorcycling scene. You'll also hear the latest news about Finley's career as he continues to make headway in the Superbikes scene. Whether you are a raging petrolhead or a newcomer to the thrills of motorsport this is a great chance to support the burgeoning career of one British motorsport's finest prospects in the company of two motorsports legends. Your support is very much appreciated!
James Whitham
Hailing from Yorkshire, James "Jamie" Whitham first tasted success as early as 1986, winning the British 80cc Championship, following up two years later in the 1300cc Production British Championship. He enjoyed further triumphs in the 1988 Mallory Park Race of the Year, the 1991 MCN TT Superbike Challenge, with Suzuki, and for Yamaha in 1993, both the British Superbike Championship Supercup and the ACU TT Superbike British Championship. He then made the leap up to World Superbike level in 1994, where he competed successfully for Ducati, initially alongside team-mate Carl Fogarty, finishing a highly creditable 7th in his first season. A serious illness diagnosis in 1995 put paid to his season, but he returned triumphantly the following season in BSB, winning an incredible ten races with Yamaha, who he also represented in the WSB that year. His final two seasons in the World Superbikes were with Suzuki, again showing great consistency to finish in an excellent 8th position in both 1997 and 1998. James has since become a popular TV analyst for Eurosport, Channel 4 and ITV, also providing commentary and analysis for the Isle of Man TT coverage by ITV4 alongside former racer Steve Parrish.
John McGuinness
One of the all-time greats of Isle of Man TT racing, John's incredible record of 23 wins places him 3rd in the all-time win list behind fellow legends Michael and Joey Dunlop. In addition, he also holds the joint record for the most Senior TT wins, with seven, alongside Mike Hailwood. After debuting in a Lightweight TT class race in 1996 when he finished 15th, he took his first win in the Lightweight 250cc race three years later, the year he also became British 250 Champion. Progressing to the Superbike TT by 2005 with Yamaha, in 2006 he made the switch to Honda, where he would remain for over a decade, enjoying incredible success. His debut season was arguably his greatest ever, winning three races (Senior, Superbike and Supersport) and lowering the outright lap record four times during the festival. The following season he again won the Superbike TT and Senior TT, and over the next few seasons added numerous victories to his final tally of 23! Such is his TT stature, in 2013 a crucial left-hand bend on the Snaefell Mountain Course was named McGuinness's in recognition of his wins!
Finley Arscott
In a remarkable career to date it is incredible to ponder that Finley Arscott had no previous experience in riding a motorbike prior to turning 16. Since then his trajectory has been consistently upwards. In 2020 he rode a Yamaha R3, becoming Thundersport junior champion and finishing runner-up in the Superteen Class after completing 4/4 rounds. Finley's 2021 season was seriously impacted by a broken collar bone, he still excelled in the No Limits Pirelli 600cc class, finishing 8/47 despite only competing in 4/7 rounds, whilst also making his British Superbikes debut in three rounds, all on a Kawasaki 600. 2022 was phenomenal, Finley competed in all rounds of the No Limits Pirelli 600 finishing the season as Champion, whilst also cementing his spot on the JR Performance British Superbikes team, competing in all rounds and finishing a highly respectable 21/56 in his full debut season! After gaining experience with the JR Performance BSB Team in 2021 and 2022, in 2023 he signed with MIH Solutions Hand Racing team, competing in the National Junior Superstock Championship class. He finished the season strongly, ending 12th overall and gaining his first pole position at Brands Hatch in October. The sky is the limit for this local lad, this evening represents a wonderful opportunity to raise funds to help with the endless expenses of competing at this level, including entrance fees, tyres, fuel, parts and travel.
Strawberry Fields Restaurant
Located at the wonderful Strawberry Fields Farm, the onsite restaurant is one of the most highly regarded eateries in the region! Happy customers, friendly staff and the tantalizing aromas of freshly baked bread, hot pies and roasting meat that you would expect to find in a traditional country kitchen are never far away. The restaurant has a warm atmosphere and with high quality customer service you will be guaranteed a smile from the restaurant staff, who will never fail to do their very best to meet individual needs. With exclusive use of the restaurant for the evening, guests will enjoy a three-course dinner of the highest quality, fit for motorsports royalty!
Read more
Need some help?
We're online!
Need some help?