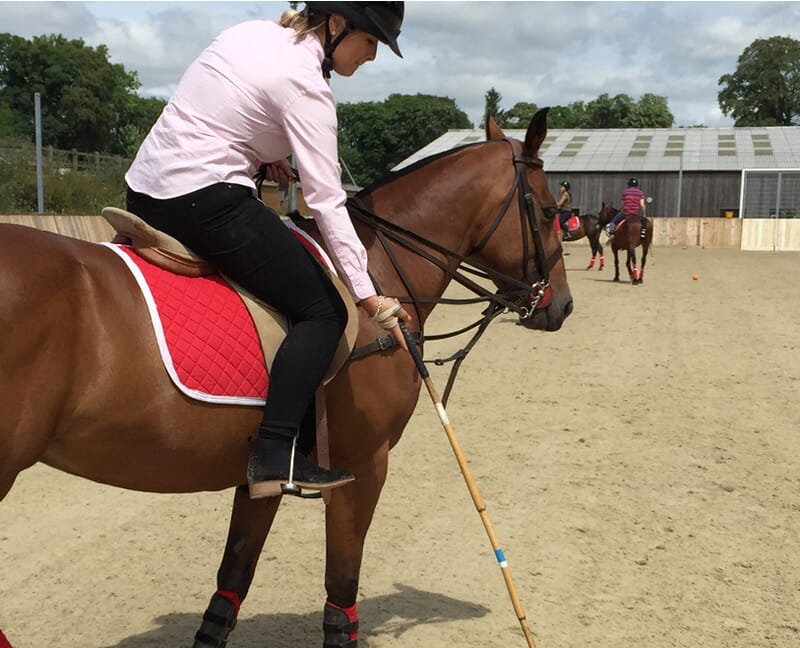 Polo is one of the fastest ball games that exists and boasts to be a glamorous sport of sheer adrenaline, skill and precision.
Normally played by playboys, millionaires and Royalty, we give you this incredible opportunity to play the game yourself, minus the bottomless bank account! With our amazing fully trained professional polo ponies and HPA (Hurlingham Polo Association) instructors we give you the opportunity to take part in a polo experience that for some will create a new polo addiction!
95% of our groups have never even ridden a donkey on a beach but under our professional instruction you will learn very quickly the joystick controls of a very highly trained polo pony.  Fun is a given, however safety is our number one priority. Our ponies are carefully selected for each person's ability and are utter professionals. We provide absolutely everything for you including British standard & approved riding helmets, gloves & polo sticks. You just need to pack a sense of adventure and smile!
We are delighted to offer this experience where you will be under the instruction of England's Heloise Wilson-Smith, who has travelled the world playing for her country, at a Polo venue near Winchester, Hampshire. This will be a fantastic opportunity for your group to try a new sport, with one of the World's best players and one that you are sure to remember for the rest of your lives!
Need some help?
We're online!
Need some help?