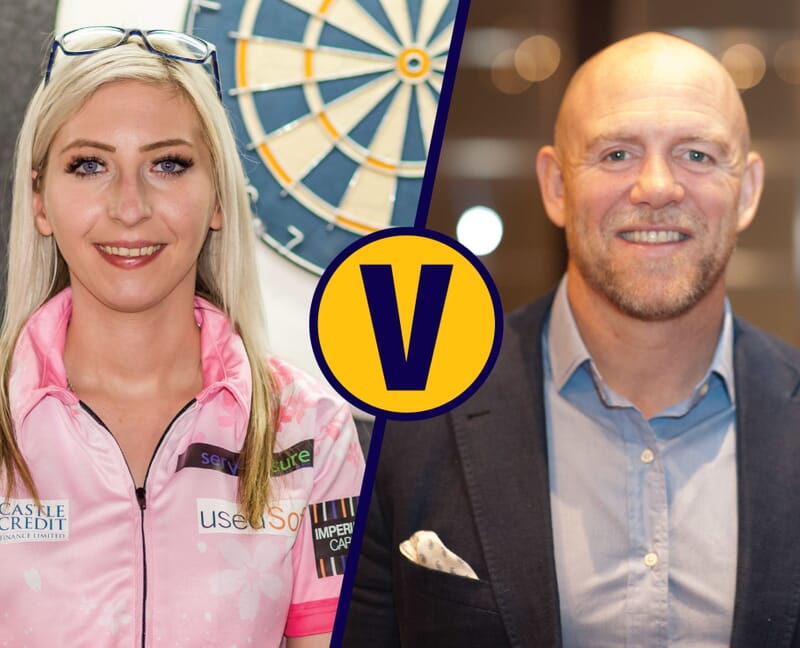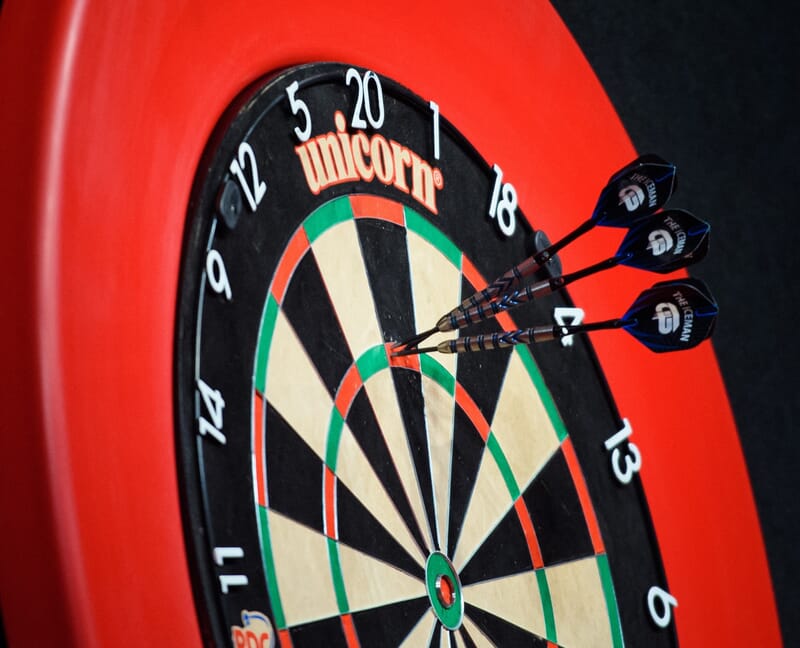 We are delighted to offer the ultimate online evening of sporting entertainment, exclusively for your clients!
Fallon Sherrock is one of darts most up and coming names, becoming the first female to win a match at the 2019 PDC World Darts Championships, earning the nickname 'Queen of the Palace' after the name of the venue for the tournament, Alexandra Palace.
Your Online Event
Sherrock will take on the 2003 Rugby World Cup winner, Mike Tindall who is also a huge darts fan. Sherrock and Tindall will play in a 501 match, before each taking on two of your selected online attendees in a match. We will create a branded platform for the event showing your company logo throughout and showing both matches as they take place, side by side. A Sky Sports presenter will host the event and commentate on all of the matches as they happen.
As the matches conclude, your Sky Sports presenter will host a Q & A with Sherrock and Tindall, asking questions about their careers and also giving your attendees the opportunity to ask questions through the 'chat' facility within the online event.
This will be a fantastic opportunity to see two elite sports people in action and also have the opportunity for four of your clients to compete with them. It will also be fascinating to hear the stories behind your special guests careers and have the chance for your guests to ask their questions to them. This is an event which is sure to stay in the memory of your attendees for many years to come.
Fallon Sherrock
Fallon made history when she became the first women to beat a man at the PDC World Darts Championship – a feat she repeated days later when she sensationally triumphed over the world number 11. She hit the headlines globally with her first round victory over Ted Evetts in the 2019/20 World Championship. After being catapulted into international fame overnight, she returned to Alexandra Palace to defeat major champion Mensur Suljovic with an iconic bullseye finish. Sherrock became known as the 'Queen of the Palace' following her ground-breaking exploits. Fallon now appears in the Premier League and competes on the World Series of Darts tour, including trips to New York, New Zealand and Australia. As Rod Studd's Sky Sports commentary line so aptly put it "Fallon Sherrock shattered the glass ceiling". She truly is a sporting icon, appearing since on numerous TV shows including most recently as a celebrity contestant on ITV's The Chase.
Mike Tindall
England's most capped centre, Mike Tindall made his England debut against Ireland at Twickenham in 2000. He went on to win 75 caps for his country and was a key part of the side which triumphed in the 2003 World Cup in Australia. Mike was one of the players to feature in every one of the seven matches England played during the tournament, including starting in the Final itself. He missed out on the 2007 tournament due to injury but was back in the side which contested the 2011 World Cup in New Zealand. A Gloucester Rugby legend, he was extremely unfortunate to miss out on the British Lions Tour of 2005 when injury prevented him from joining the squad. In October 2016 Mike was inducted into the Premiership Rugby Hall of Fame, along with fellow England stars Neil Back, Mark Cueto and Richard Hill. Famously married to the Queen's grand-daughter Zara, Mike is sure to have loads of hilarious anecdotes from his life at the top of rugby.
Branded Platform
A bespoke virtual event platform will be created using your brand artwork & guidelines. The virtual event platform allows us to "dial in" all of your special guests for interviews and also show them stood at the oche as well as a close up on their dartboard whilst playing darts. Your branding along with our high end production techniques and bespoke animations will ensure your guests feel they are watching a quality television broadcast.
Your audience will access the live broadcast by simply joining a Zoom meeting URL provided ahead of the event.
Need some help?
We're online!
Need some help?