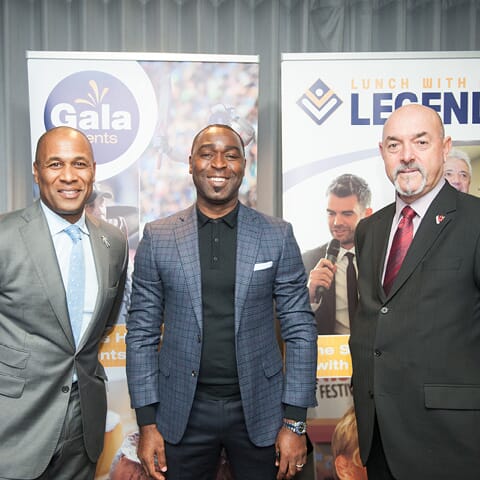 Event Showcase
/
Sporting Dinners & Lunches
An Evening with the Football Legends
View 16 photos
Les Ferdinand, Andy Cole and Bruce Grobbelaar
Our pre-Christmas Evening with the Football Legends was a huge hit in November, with almost 300 guests attending our evening at Edgbaston Stadium. Joining us for the event were two of the hottest strikers of the last 25 years, Andy Cole and Les Ferdinand, who between them netted an incredible 500 goals in all competitions, both representing England, 15 and 17 times respectively. Making up our panel was living Liverpool legend Bruce Grobbelaar, whose haul of medals included six First Division titles, three FA Cup winner's medals, three League Cups, a Super Cup, and perhaps most famously of all, a European Cup in 1984.
After enjoying a pre-dinner drinks reception and photo opportunities with our panel, our Gold VIP guests joined the main group in Edgbaston's Banqueting Suite for an introduction from Sky Sports host Pete Graves, before a delicious three course dinner was served. Although still only late November, there was already a Festive buzz in the room! For many of our clients who attend the event year after year, our Football Legends evening kicks off the party season in style!
It was fascinating to hear from our panel, with Bruce delivering an hilarious speech, taking guests through some of the wackiest moments of his career. Although goalkeepers are often regarded as a breed apart, Bruce broke the mould as a character, his own team-mates often clueless as to what prank he might pull next. However, his dependability as a shot-stopper was never in doubt, and his era at Liverpool coincided with a period of success and trophies rarely matched by any other European club.
As for the best player Bruce ever played with or against, he was categorical in stating Graeme Souness. As well as being a fearsome physical presence, Souness was superb in almost every other aspect of the game, capable of dominating the midfield almost single-handedly!
Andy and Les took to the stage together with host Adam Leventhal, and delved into their careers sharing the highs and lows. Peter Beardsley was named as the biggest influence and best strike partner by Andy, who learned so much from the England, Newcastle and Liverpool legend. Andy enjoyed a glittering career, including a long spell at Manchester Utd where he won an incredible 5 EPL titles, two FA Cup, and the Champions League on that famous night in the Camp Nou in 1999. Hearing about the legendary Treble-winning season was a real treat!
For Les, the best player he played alongside was Alan Shearer, the two of them forming a fearsome partnership whilst at Newcastle Utd. Living in London towards the end of his career, Les also told the audience how he used to commute each week by helicopter whilst at Bolton, such was his desire to continue playing!
It was a great night, and no doubt there were one or two bleary eyes in the office the next morning! Our thanks go to Bruce, Andy and Les, to our host Pete Graves, and to the staff at Edgbaston for another excellent dinner.
Read more