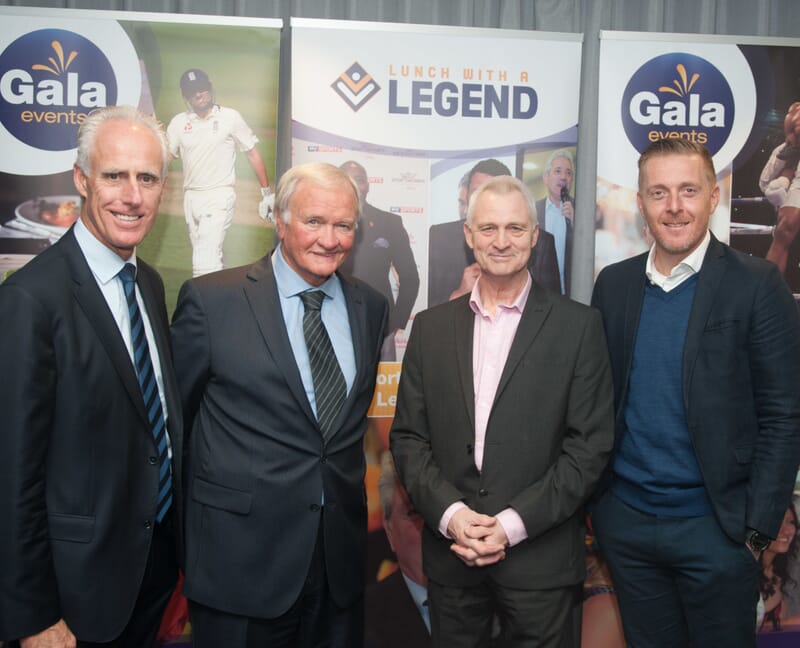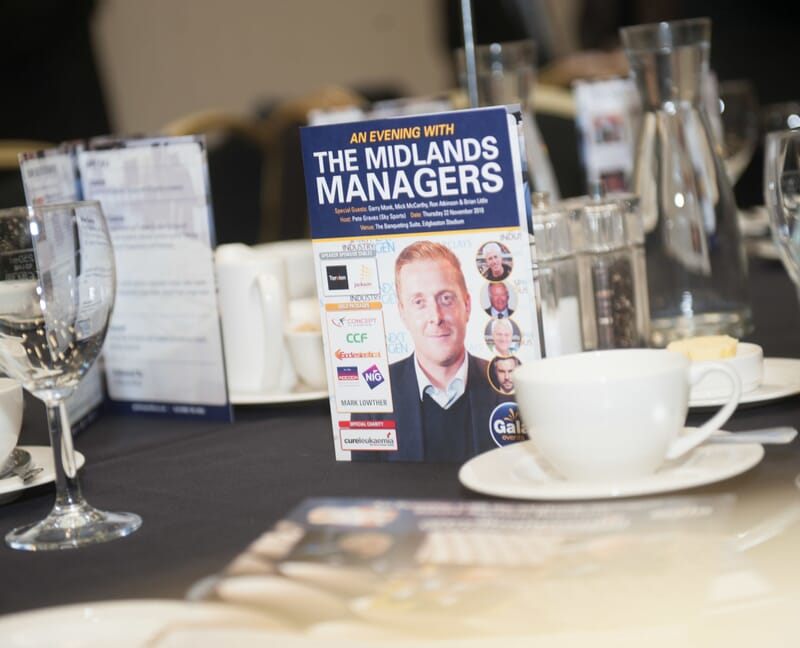 Event Showcase
/
Sporting Dinners & Lunches
An Evening With The Midlands Managers
View 30 photos
Garry Monk, Ron Atkinson, Mick McCarthy & Brian Little
Our pre-Christmas Evening with the Midlands Managers saw our biggest attendance for this event yet as over 300 guests arrived at Edgbaston Stadium. Joining us for the event were four Midlands managerial legends who between then have managed almost every team in the region! Current Blues boss Garry Monk was joined by former Wolves and current Ireland manager Mick McCarthy. Making up our foursome were former Villa, Leicester and West Brom chief Brian Little, and 'Big Ron Atkinson', who managed West Brom, Villa, Coventry City and Notts Forest to name a few, as well as a long spell at Old Trafford.
After enjoying a pre-dinner drinks reception and photo opportunities with our panel, our Gold VIP guests joined the main group in Edgbaston's Banqueting Suite for an introduction from our Sky Sports host Pete Graves, before a delicious three course dinner was served. Although still only late November, there was already a Festive buzz in the room! For many of our clients who attend the event year after year, our annual Football Dinner kicks off the party season in style!
The scores of Blues fans in the room were thrilled to hear from Garry, who unlike the others on the panel is still in the early stages of his managerial career. However, with almost 2 years' experience in Premier League management under his belt at Swansea where he won many admirers, it was obvious that the fans in the room are thrilled to have him at St. Andrews. Having done such a good job so far, it was fascinating to hear from him about his plans for the club.
Mick McCarthy was on stage with Garry for the "first half" and was in cracking form, reeling off a string of great stories from his long career as both a manager and a player at the top of the game. A natural entertainer, Mick had the entire room in stitches at times as he segued from his times as a player at the 1990 World Cup where Ireland made the quarter-finals to the debacle with Roy Keane as manager at the 2002 World Cup.
A bona fide Aston Villa legend both as a player and a manager, Brian Little was warmly received by everyone, even the slightly begrudging Blues fans! A one club man as a pro, his career at Villa Park was cut short by injury, but he went on to make his mark with a highly successful spell as manager, finishing as high as 4th in the Premier League, winning the League Cup and reaching the FA Cup semi-final in his 4 years at the helm.
Partnering Brian on stage, 'Big Ron' needed no introduction as one of the most colourful and entertaining characters in British football in decades. He was warmly received by everyone in the room and did not disappoint! With such a long career as a manager spanning almost 30 years he is never short of a story, and 45 minutes on stage with Brian went by in no time. Such is his ability as a raconteur it's quite difficult for the host to get a word in edgeways – what a legend!
It was a great night, and no doubt there were one or two bleary eyes in the office the next morning! Our thanks go to Garry, Brian, Mick and Ron, to our host Pete Graves, and to the staff at Edgbaston for another excellent dinner.
Read more