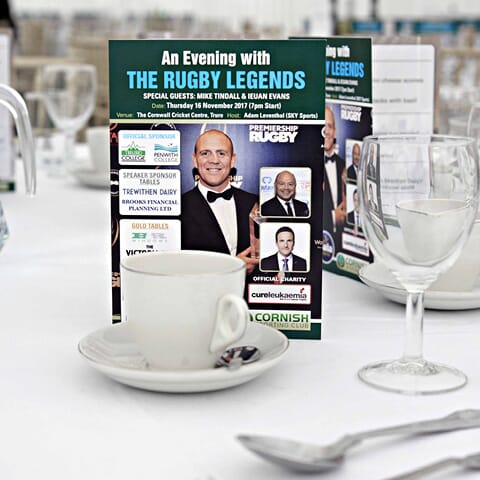 Event Showcase
/
Sporting Dinners & Lunches
An Evening with the Rugby Legends (2017)
View 15 photos
Mike Tindall & Ieuan Evans
A full house of guests and clients joined us in our VIP Marquee in Truro for an Evening with the Rugby Legends. We were thrilled to welcome World Cup winner and England's most-capped centre, Mike Tindall, and Welsh wing wizard Ieaun Evans as our VIP speakers for the evening.
The bar was doing a roaring trade, as guests enjoyed a three course dinner, in anticipation of Mike and Ieuan taking the stage.
Our regular host at our Cornish events, Sky Sports presenter Adam Leventhal, marshalled events well, and guests were treated to some cracking stories from the inner sanctum of the 2003 and 2011 World Cup camps, including the now infamous incident involving Mike Tindall and other members of the squad at a club which offered "dwarf throwing" as an evening pastime!
Hearing about how the squad triumphed Down Under in 2003 was particularly riveting, arguably the greatest triumph of any England team. Mike was a key player in that side, forming a rock solid partnership with Will Greenwood, in a formidably physical centre pairing.
It was fantastic to welcome Ieaun to the event, with many Cornish fans harbouring a love for their fellow Celts, sometimes at the expense of England! Hearing from Ieaun about facing Jonah Lomu in his prime was fascinating, and really put across the great respect rugby players have for each other off the field. The great New Zealand wing is still mourned by many of his on-field rivals.
Ieaun was also in great form discussing the famous 1989 Lions series, in which the team grabbed an incredible 2-1 win, with Ieaun scoring the series-clinching try in the final Test which they won 18-19. A three times tourer with the Lions, there can be little doubt he is one of the all-time greats to put on the shirt.
The rugby chat on stage went on for well over an hour, and guests stayed late into the evening, with one or two sore heads no doubt the next day! Thanks to all of our guests for supporting the event, and to Ieaun and Mike, and host Adam for a great evening.
Read more