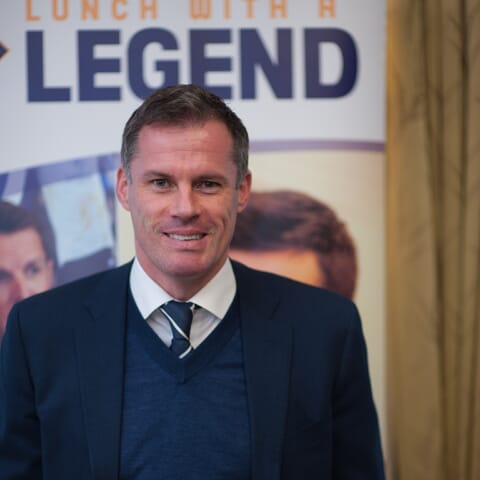 Event Showcase
/
Sporting Dinners & Lunches
Christmas Lunch with a Legend in London
View 19 photos
Jamie Carragher
The magnificent Grosvenor House Hotel on London's Park Lane played host to our annual Christmas Sporting Lunch with a Legend, where we were joined by Liverpool icon and all-time great, Jamie Carragher. A one-club man with 737 appearances for the Reds, our guests were in for a thrilling day as the Kop favourite delved into his illustrious career to give the inside track on his life at Anfield. Since retiring in 2013, Jamie is now a regular pundit on SKY Sports, and a good friend of our host for this fantastic event, Pete Graves from SKY Sports News.
Our VIP table guests arrived early to enjoy reception drinks and the opportunity to have a photo taken with the great man. Jamie was in fine spirits, and an absolute pro as he posed for some memorable shots with our delighted clients.
The Ballroom was looking magnificent, with tables beautifully laid up for the event as guests sat down for lunch. With a complimentary bar open from the off, the room was soon buzzing as a truly delicious lunch was served, featuring three courses of top class standard.
The anticipation in the room for Jamie to take the stage was palpable; the three times Liverpool Player of the Year enjoyed a truly great career at Anfield with highlights including 2 FA Cups, 3 League Cups, a UEFA Cup and most famously the stunning 2005 Champions League triumph in 2005.
Host Pete Graves welcomed Jamie to the stage after dessert was served to rapturous applause, with many Liverpool fans in the room. Hitting his stride straight away, Jamie launched into one of the most memorable interviews we've ever had at one of our events.
There were lots of hilarious digs at arch-rivals Manchester Utd, with former sparring partner, and fellow SKY Sports pundit Gary Neville coming in for some heavy but good-natured flak. Tales of growing up as a Reds-hating Everton fan, before signing for Liverpool brought great rounds of applause, as Jamie revealed the truth about his journey from Blue to Red. Insights into the fierce nature of the derby fixture were lapped up by the audience, with not an Everton fan in sight!
In terms of his most memorable season, many in the room were fascinated to learn the reasons why Jamie's favourite was the 2000/01 season when the club famously won three Cup competitions: The League Cup, FA Cup and the Uefa Cup, the latter in an incredible Final which finished 5-4 to the men in Red. It was a stunning achievement, one we may never see again.
Jamie's memories of the epic 2005 Champions' League Final were fantastic. Who can forget the team trudging off the field at half-time, 3-0 dwon to a brilliant and rampant AC Milan side featuring the likes of Maldini, Seedorf, Kaka, Shevchenko and Crespo – who gave them a chance? Pete Graves asked what the mood was like in the dressing room at half-time, and how things changed. Jamie told of how for the first few minutes of the second half AC Milan were still playing brilliantly. It was only when fellow legend Steven Gerrard pulled one back that real belief started to sink in, and doubts developed in the opposition.
The rest will go down in history as one of the greatest come-backs of all time. Vladimir Smicer pulled a second goal back 2 minutes after the first, and Jamie said at that point the Liverpool side "knew they'd get the equaliser". After it became 3-3, Jamie recalled THAT save by Dudek right at the death, which gave the Reds the feeling this was to be their day, and the confidence to step up and dominate in the shoot-out.
It was top class entertainment, and Jamie took some questions from guests, giving great answers with his trademark Scouse humour. A number of our guests then bid in the 'Stand Up Sit Down' feature for a signed frame with the Liverpool legend, including a photo with Jamie and a signed 2005 Champions' League Final programme!
Once Jamie left the stage the entertainment continued as brilliant impressionist Kevin Connelly, who shot to fame on BBC's 'Deadringers', entered the fray. After warming up with some memorable impressions of politicians such as Boris Johnson, Nigel Farage, William Hague and Donald Trump, he turned his focus to the world of football. Kevin totally nailed all the characters he took on, including Glenn Hoddle, Arsene Wenger, Trevor Brooking, Alex Ferguson and David Beckham. It was fantastic stuff!
It was definitely one of our best ever events, and we are very grateful to Pete Graves and most of all to Jamie for making it so special. We also would like to thank the team at the Grosvenor House Hotel for their fantastic catering and service, and finally to all of our clients for supporting the event.
Read more