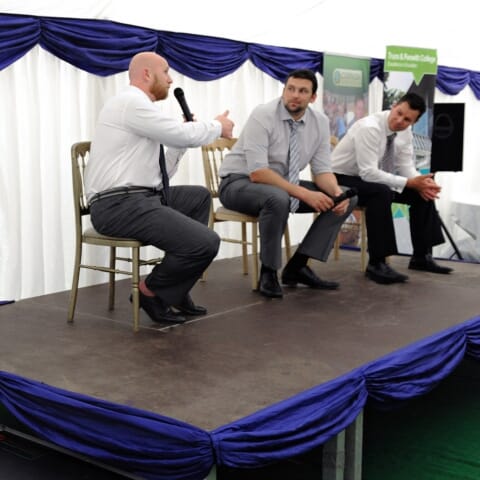 Event Showcase
/
Sporting Dinners & Lunches
An Evening with Hartson, Harmison & Jones
View 18 photos
John Hartson, Steve Harmison and Geraint Jones
On this night in Truro, Cornwall Cricket Centre was transformed into a splendid corporate facility for the November Dinner 2014. Our star speakers for the evening were former Arsenal, West Ham and Wales striker John Hartson, and two Ashes winning stars from the legendary series of 2005, fast bowling terror Steve Harmison and wicket-keeper Geraint Jones. Our VIP guests arrived early for a couple of drinks and photos with our international stars, before other guests arrived to tuck into an excellent three course meal.
After dinner, Sky Sports News anchor Adam Leventhal, our host for the evening, introduced Steve and Geraint to the stage. There followed an entertaining and lengthy discussion of THAT series, one which will never by forgotten by cricket fans around the world. Harmison shared with the audience the nerve-tingling crucial moment when he had Mike Kasprowicz caught behing by Geraint, to win the crucial second test by just two runs. This led to the iconic image of England hero Andrew Flintoff comforting the distraught Brett Lee at the non-striker's end, as the other England players ran amok in celebration. There were plenty of other highlights as the pair shared anecdotes from their international careers.
When John Hartson stepped up to the stage the room was buzzing, and the big man didn't disappoint. After sharing with humour some insights into his victorious battle with cancer, he dipped into his colourful career with comedic aplomb. A natural with a microphone in his hand, John had assembled guests in stitches, sharing insights into changing room banter. Despite playing and scoring hatfuls of goals at club level for both Arsenal and West Ham amongst others, John's most treasured memories came from representing his country, and wearing the No. 9 shirt which had been worn by the likes of Ian Rush and John Charles.
It was a fantastic evening, with much merriment had by all, and we look forward with relish to our next event in Cornwall. Our thanks go to our sponsors Truro College, the staff at the venue, our host Adam Leventhal, and most of all to our three speakers.
Read more