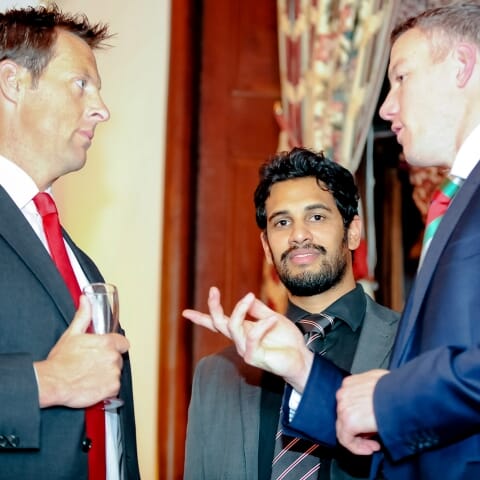 Event Showcase
/
Sporting Dinners & Lunches
An Evening With Hoggard, Trescothick and Stimpson
View 12 photos
Matthew Hoggard, Tim Stimpson, Marcus Trescothick
Gala Events and sister company Cornish Sporting Club ran two Sporting Dinner events on consecutive evenings in November, in Plymouth and Truro. The themes for the evenings were rugby and cricket, focussing on the Lions brilliant triumph over Australia 'Down Under' in 2013, and the Ashes battles against the 'Old Enemy'. Representing the rugby world at both events was former England and British Lions full back Tim Stimpson, whilst guests were also entertained by Ashes winning heroes Marcus Trescothick in Truro, and Matthew Hoggard in Plymouth.
After enjoying a three course dinner, guests settled down to hear the views of our sports star guests, including some fascinating insights into life on tour. A few laughs were had as the players shared anecdotes that threw a spotlight on the insider's experiences of touring, including the stories that never made the papers! Although the old adage goes 'what happens on tour stays on tour', our guests were happy to let the audience in on a few juicy tales of the shenanigans that go on when a squad is representing their country abroad……
Once our sporting stars retired from the stage there was a brief break for guests to recharge their glasses before proceedings were brought to a hilarious end with a very funny set by comedian Paul Levent.
Read more