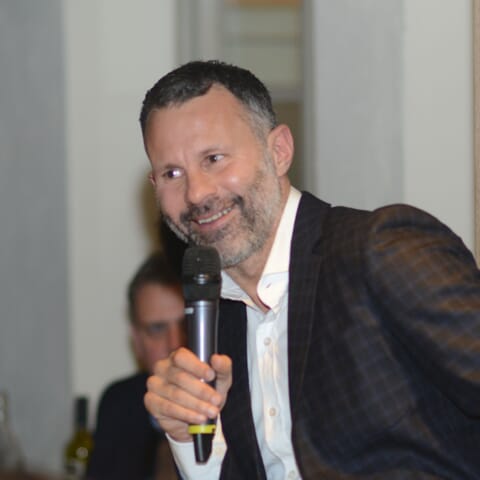 Event Showcase
/
Sporting Dinners & Lunches
An Evening with Ryan Giggs at George's Restaurant
View 16 photos
Ryan Giggs and comedian Jamie Sutherland
In one of our most intimate events ever, we were thrilled to welcome 70 guests to George's Restaurant in Worsley, for our evening with the Manchester Utd legend and all-time footballing great, Ryan Giggs. As a co-owner of George's, this stylish restaurant was familair surroundings to Ryan, and it was a privilege to have the venue to ourselves for this small but prestigious gathering.
The most decorated player in club football history, it is impossible to overhype Manchester Utd legend Ryan's achievements in the game. In a career spanning a quarter of a century, Ryan made over 1000 appearances as a professional for club and country at the top of the game scoring almost 200 goals. His major trophy list is truly staggering; thirteen Premier League titles, 4 FA Cups, 4 League Cups and two Champions' Leagues.
His countless personal awards include PFA Players' Player of the Year, PFA Young Player of the Year, BBC Sports Personality of the Year, and BBC Goal of the Season. Who will ever forget Ryan's sensational strike against Arsenal in 1999 which earned him the latter award? Many experts believe that Ryan's thirteen Premier League titles will never be bettered: Few will argue with that claim.
Prior to sitting down to dinner, all guests had the opportunity to meet Ryan, share a few words and get a photo taken with the great man. There were lots of beaming smiles, with most of our guests being ardent Reds fans!
So after a delicious three course dinner, and the complimentary bar in full flow, the scene was set for Ryan to take to the stage with our Sky Sports News host, Pete Graves. The room was hushed as Pete and Ryan discussed some of the great moments and memories from Ryan's career. One of Ryan's earliest memories as a young player was of Alex Ferguson (before he became 'Sir'!) coming round to his house to sign him as a teenager – the only problem was, Ryan had gone out because he thought it was a wind-up!
He also discussed many of the highlights of his astonishing playing career, including "that famous night in Munich" way back in 1999, when the Reds scored two goals in the last few minutes to clinch an unlikely Champions League title having been dominated by a brilliant Bayern Munich for most of the game. With 13 League titles to his name, it was difficult to cover them all, but Ryan did his best to pluck out his favourite triumphs!
Ryan aslo delved into his international career, and his pride in playing for Wales was evident from the way he described being an international player. Most surpirisingly, he shared with guests that for all his incredible achievements as a player, managing Man Utd at Old Trafford for the first time meant more to him than any of his playing memories. It was fascinating stuff.
After exiting the stage to enthusiastic applause, the entertainment continued with a brilliant set from the talented comedian Jamie Sutherland. It was the perfect way to round off a great evening.
Many guests stayed on for a few more drinks, to bathe in the afterglow of a highly memorable evening in the company of one of the all-time greats of British football. Thanks go to the staff at George's, to our guests, and above all to Ryan and host Pete Graves for a fascinating night.
Read more