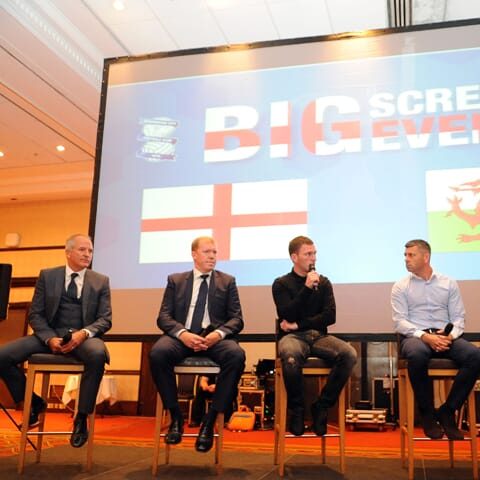 Event Showcase
/
Sporting Dinners & Lunches
Birmingham: England v Wales 2016 Big Screen Event
View 16 photos
Craig Gardner, Steve Staunton, Steve Bull & Paul Robinson
Over 350 guests joined us in the Banqueting Suite at the Hilton Metropole just outside Birmingham for an epic big screen event featuring the long-awaited clash between England and Wales at the European Championships. We were joined on this cracking day by big names of Midlands football; current Baggie and Premier League star Craig Gardner, Black Country legend and former England star Steve Bull, current Blues club aptain Paul Robinson, and former Villain and Eire stalwart Steve Staunton.
The excitement in the room was palpable as guests sat down for a delicious three course lunch and a few drinks to settle the nerves. Prior to the kick-off our Midlands stars took to the stage with host Tom Ross for a riveting discussion of the imminent match, giving their insights on the biggest clash of domestic nations for a generation. It was clear that the panel felt the game would be tight, but the general feeling was that England would scrape home, even with world superstar Gareth Bale in the Wales line-up.
In the event, it was to prove a heart-stopping afternoon for England and Wales fans alike. After England had dominated possession for the first 40 minutes, squandering numerous chances, that man Bale popped up to score a fabulous free kick from a full 30 yards, leaving Joe Hart red-faced. The shock in the room was evident as people refilled their glasses for the second half.
Roy Hodgson rang the changes at half-time, bringing on Jamie Vardy and Daniel Sturridge for a tired looking Harry Kane and Raheem Sterling, and England immediately looked more threatening. A lapse by Wales captain Ashley Williams presented the ball to Jamie Vardy, who equalised for the home side.
The game seemed to be petering out to a stalemate, with England dominating possession but creating little, and everyone was expecting the draw. Cue Daniel Sturridge, who combined with Vardy to somehow squeeze through a packed defence and dink the ball inside Wayne Hennessey's near post. To say the room erupted would be the understatement of the year!
The whistle blew for full-time shortly afterwards, and guests continued with a few more celebratory drinks, with England's course very much back on track in the competition.
All in all it was a day that will live long in the memory, with nails bitten to the quick, before the late, late show from Daniel Sturridge. Our thanks go to the staff at the Metropole for a cracking event, our host Tom Ross, our four fantastic speakers, and most of all to our roomful of happy guests for making this such a special day!
Read more