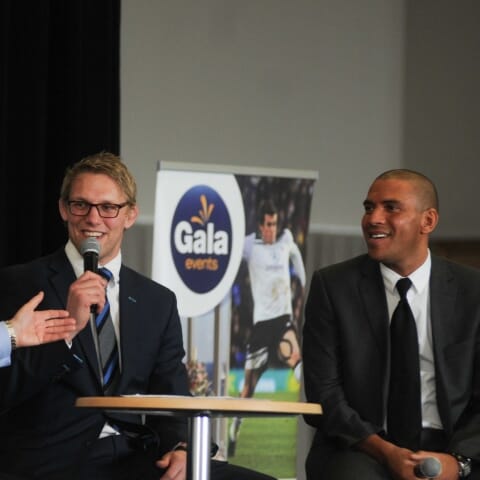 Event Showcase
/
Sporting Dinners & Lunches
Birmingham Gold Cup Lunch 2013
View 14 photos
Lewis Moody & Stan Collymore
We hosted an entertaining 'Cheltenham Gold Cup' themed day at Edgbaston Cricket Ground on 15 March 2013. The event saw the former England Rugby Union Captain Lewis Moody and the former England footballer, Stan Collymore as guest speakers.
Guests were welcomed by leading Irish band, Celtic Clan as they entered the room and enjoyed a delicious three course lunch.
SKY Sports Tipster, Kevan Minter then advised guests where to put their money, with Ladbrokes bookies taking bets in the room.
Free Radio presenter Tom Ross who hosted the event, then led two entertaining Question and Answer sessions with Moody and Collymore, before guests enjoyed the six races from Cheltenham on the big screen.