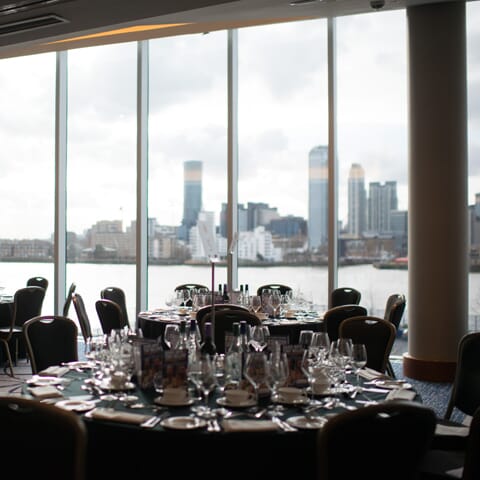 Event Showcase
/
Boxing Hospitality
Team Hayemaker Hospitality: David Haye v Tony Bellew
View 19 photos
Carl Froch
We were thrilled to work in partnership with Team Hayemaker to provide hospitality for the huge domestic clash between David Haye and Tony 'Bomber' Bellew. After a lengthy and at times acrimonious build-up to the fight, there was huge anticipation for the grudge match of the year; we were joined by 180 guests in the Riverview Suite at the O2's Intercontinental Hotel, for a delicious pre-fight dinner, and to hear from British boxing legend and Sky Sports analyst Carl Froch, about how things might pan out in the ring.
With the complimentary bar open on arrival, guests were soon in the swing of things as the excitement built. Before settling down to dinner, we were joined by Carl for a brief but enthralling chat about how he saw the night's big fight developing. Although Haye was the bookmakers' hot favourite, Froch felt that Bellew might be able to take advantage of the Hayemaker's comparative 'ring-rustiness', having had only two very brief fights in three years. Carl was on duty with Sky Sports, but returned after the fight for a lengthy post-fight analysis, and to discuss some of the highlights of his long, successful career at the top.
We were also delighted to welcome one of our guests, current Premier League star and captain of Hull, Curtis Davies to the stage between courses for a bit of impromptu boxing chat. A huge fan of the sport, Curtis gave his thoughts on the big fight, and shared one or two anecdotes from his career, much to the delight of our audience. It was very kind of Curtis to entertain us in this way, and we thank him for being such a good sport himself!
Guests enjoyed a quite superb three course dinner, and made the most of the pre-fight complimentary bar, before making the short walk across to the O2. There was a choice of ticket category with the hospitality package including Ringside, Inner and Outer Floor seats, with everyone having a great view of the night's entertainment. With a mouth-watering undercard featuring the likes of Sam Eggington taking on former world champion Paulie Malignaggi, and brilliant Katie Taylor defending her world title, there were some cracking bouts which whetted the appetite for the main event.
The headline act was certainly not to disappoint; after slugging it out fairly evenly for the first 6 rounds (Haye was ahead at the time), David Haye suffered a serious problem with his achilles, which would've stopped lesser men from continuing. He bravely fought on against an inspired Bellew, despite having almost zero mobility, but scenting blood Bellew unleashed a barrage of blows in the eleventh round which finally ended Haye's heroic resistance. Despite the pre-fight bad blood, both men were full of praise for their opponent, Haye for an inspired performance from his underdog opponent, and Bellew for the unquestionable bravery of Haye.
With everyone buzzing, guests made their way back to the Riverview Suite, for post-fight snacks and a few more drinks. We were joined again by Carl Froch fresh from the Sky Sports analysis team, to deliver his big-fight verdict, and share some quality stories from his brilliant career. All in all, and incredible, memorable night!
Please note: Images of David Haye provided courtesy of Laurence Lustig.
Read more