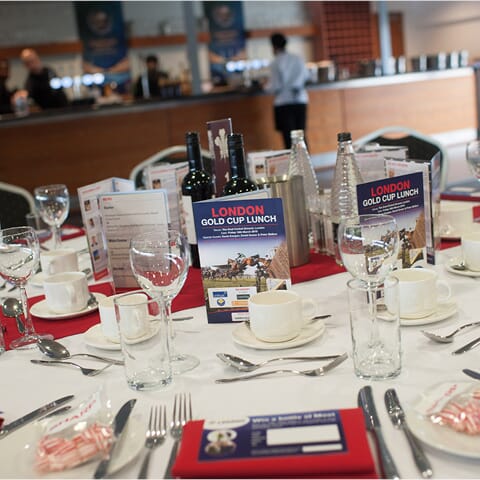 Event Showcase
/
Sporting Dinners & Lunches
London Gold Cup Lunch 2018
View 16 photos
Kevin Keegan, David Gower & Peter Shilton
After the success of our inaugural London Gold Cup Lunch in 2017, we moved venue to the England Suite at the Kia Oval, overlooking the famous old ground. Our special guests for the day were two English football legends with almost 200 caps between them, Kevin Keegan and Peter Shilton, and former England cricket captain and one of the most stylish batsmen ever, David Gower. With a delicious lunch and 5 hour complimentary bar, the full card from Gold Cup day and bookies in the room, this was an action-packed day to remember. We were also delighted to welcome Grand National-winning jockey Brendan Powell as our tipster for the day!
Our speakers were all in great form with some cracking stories from their careers, both on and off the field. Gower had the room in stitches recounting the infamous incident where he buzzed the Carrera Oval in Queensland, Australia whilst in a Tiger Moth whilst his team-mates were batting, as well as some juicy anecdotes about having hard-living legend Ian Botham as a drinking partner.
Shilton, focussing on the big changes in training and preparation in today's game, told guests about an England training camp to Majorca, where he had to do goalkeeping practice on a road island, as this was the only grass he could find to dive on during the drought in the region! He also said he would play 3 at the back for England's forthcoming World Cup campaign and really attack the opposition with two attacking full backs. It looks like Gareth Southgate has taken note, having put this into action in the recent friendlies against Italy and the Netherlands!
We've worked with Keegan on many occasions, and he was in his usual hilarious form. As a former England manager hearing his thoughts on the upcoming World Cup was fascinating. He also spoke about how the Premier League needs to get more English players playing regularly if we are going to compete internationally. We need to have 5 high profile players being 'stars' at their club for England to be successful and at the moment we really only have Harry Kane.
In the event, it was a brilliant afternoon's racing, as to be expected from the most prestigious day in the National Hunt calendar. The feature race, the Cheltenham Gold Cup, was won by the 5-1 third favourite Native River, which was a popular pick with punters in the room. An epic duel with 4-1 favourite Might Bite was one for the ages, with the gallant Native River outstaying his brave rival up the hill to the finish.
Another great year for our London Gold Cup Lunch, we're already looking forward to the next one!
Read more