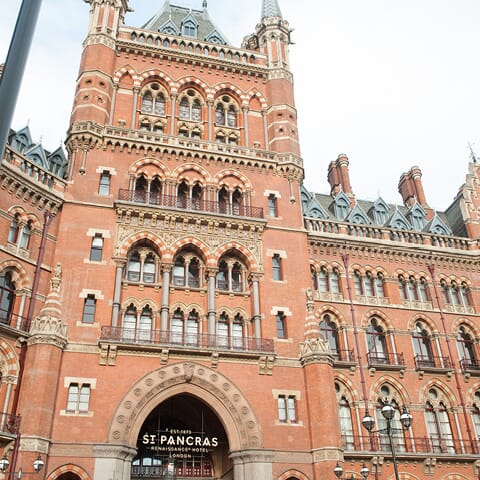 Event Showcase
/
Sporting Dinners & Lunches
London Lunch with the Legends 2017
View 18 photos
Michael Owen & Sol Campbell
The magnificent St Pancras Renaissance Hotel was the venue as 200 guests joined us for our Christmas London Sporting Lunch with the Legends, Hansom Hall proving the perfect venue for one of our most prestigious events of the year. Joining us for an afternoon of quality dining and football chat were two giants of the modern game.
Liverpool icon Michael Owen first burst onto the scene in the late 90s, and went on to represent England on 89 occasions, scoring 40 goals. He was also Liverpool's top goal-scorer for an incredible 5 successive seasons, scoring 158 times in 297 matches in all competitions for the club, whilst also holding the record as the youngest ever Premier League player to score 100 goals.
One of English football's greatest defenders, Sol Campbell made over 300 appearances for Spurs, before moving to Arsenal where he won two Premier League titles and two FA Cups in his five seasons, including the legendary "Invincibles" season of 2003-04. He featured for England for over a decade, often in the same team as Michael, winning 73 caps, and scoring 1 goal. In 2006, he became the only player to represent England in six consecutive major tournaments, between 1996 and 2006.
With the complimentary bar open for the duration, guests settled down for a high class three course lunch, served with aplomb by the fabulous professional team at the Renaissance.
After lunch, our Sky Sports host Pete Graves welcomed our two legends to the stage for a fascinating discussion about their long careers both as Premier League and international players, as well as Michael's time with the 'Galacticos' of Real Madrid. Although Liverpool fans were devastated to see their hero depart for Spain, the opportunity to play with the likes of Ronaldo, Figo, Roberto Carlos and compatriot David Beckham proved to strong a draw to resist for Michael.
Hearing from Sol about his experiences of the incredible "Invincibles" season, when Arsenal won the Premier League without losing a match, was riveting. Led by captain Patrick Vieira, Robert Pirès, Thierry Henry, and Dennis Bergkamp, the squad had a genius level of attacking of talent, and were rock solid at the back with Sol forming an often impenetrable partnership with Kolo Toure in the centre of defence.
When asked who his toughest opponent was, Michael went for Chelsea's World Cup-winning French defender Marcel Desailly, who combined lightning pace with superb tackling and heading ability, and the skill to bring the ball out of defence and pick a pass. For Sol there were many opponents who had earned his great respect, particularly Alan Shearer for his all-round finishing skills, positional sense and ability in the air, and also his one-time opponent then team-mate, the genius Thierry Henry.
Having played together so often at international level, it was great to hear about their experiences at the major Championships. Perhaps the highlight was the 2002 World Cup when both Sol and Michael featured in every game, with England making the Quarter-finals, only to lose narrowly to eventual winners Brazil. Michael Owen gave England the lead, with Rivaldo equalising deep into stoppage time at the end of the first half, before Ronaldinho scored with an outrageous effort from the halfway line to once again break English hearts.
After almost an hour on stage, our stars went back to the sponsors' tables to rapturous applause. We were then treated to some comedy from Dominic Holland who proved a hit with guests, keeping the atmosphere going. With so many people getting involved with the memorabilia auction and raffle, it was a packed afternoon, with the bar staff working overtime to keep up!
Our thanks go to Michael and Sol for an intriguing insight into their professional careers, to the staff at St Pancras Renaissance, and to all of our clients for making the event such a success.
Read more