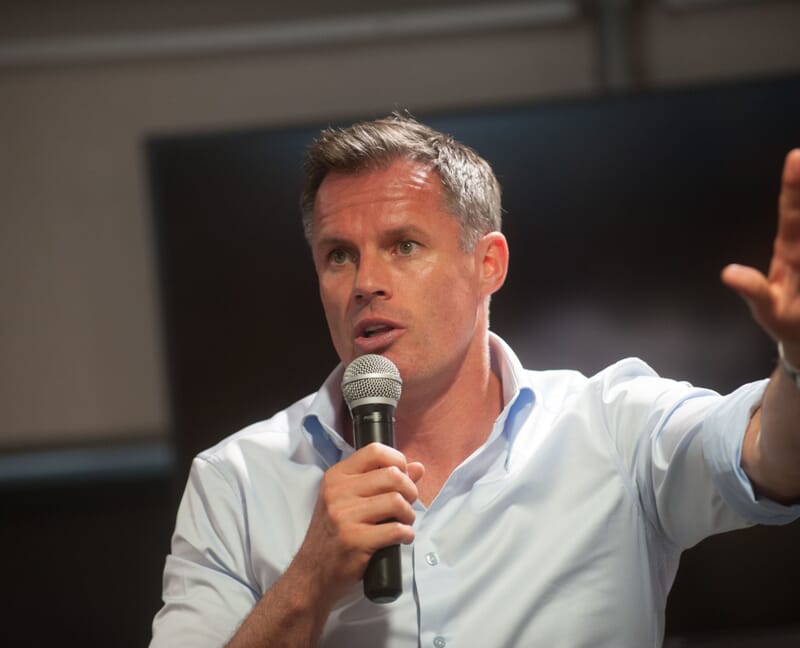 Event Showcase
/
Sporting Dinners & Lunches
London World Cup Big Screen Event: England vs Belgium
View 12 photos
Jamie Carragher, Nigel Winterburn & Steve Howey
The Ashes Suite at the Kia Oval was the venue for a memorable big screen event featuring the World Cup third group game between England and Belgium. With almost 300 guests in attendance to see England continue their progress in Russia, we welcomed three VIP guests to provide analysis before and after the game, and share a few stories from their own careers. Former Liverpool and England superstar Jamie Carragher was joined by Arsenal legend Nigel Winterburn, and former Newcastle, Man City and England defender, Steve Howey.
With guests arriving from mid-afternoon, there was a complimentary bar running for a full 5 ½ hours, and everyone certainly made the most of it on a very hot day! A pre-match three course dinner was served by the attentive staff at the Oval, and with anticipation for the match building, our speakers took to the stage.
With the winner of the match very likely destined to play Brazil further into the tournament, the panel were split as to whether this was "a good match to lose" for England. Similarly in the room, it was difficult to know what the best outcome was – a victory to keep up the great momentum built up by the lads in the first two matches, or a defeat to avoid the Samba giants – tough call!
It was interesting to hear some tales from the lads about their own careers too. When asked who were the best players each of our guests had played with and against, Steve Howey went for his Toon army team-mate Peter Beardsley, and picked out Gianfranco Zola as his most respected opponent – it's not surprising to hear a centre back pick two of the finest dribblers of recent years, a nightmare for any defender! Nigel Winterburn, perhaps predictably given the Dutchman's standout genius, went for Dennis Bergkamp. Playing alongside the all-time great was a joy to behold, he could do things no one else even tried! In terms of opponent Nigel chose Figo, who represented some of the world's giants, including infamously Barcelona and Real Madrid, in an astonishing career.
Luis Suarez was picked out by Jamie Carragher as the best player he had played alongside, as well as being incredibly skilled and tenacious, the Uruguayan's fantastic return of 82 goals in only 133 matches marked him out as a truly special player at Anfield. As his hardest opponent, Jamie picked Arsenal legend Thierry Henry, who made a habit of scoring special goals every other week! His pace and explosive finishing with either foot made him almost impossible to mark.
With kick-off fast approaching, guests grabbed another drink from the complimentary bar, and settled down for the match on our multiple giant screens. In the event, a low-key game was settled by a brilliant strike from former Man Utd youngster Adnan Januzaj, with both teams resting the majority of their key men. This didn't stop there being a great atmosphere in the Ashes Suite, as fans cheered the boys on with the added reassurance of knowing England were going through regardless! At the final whistle our three guests took to the stage again for some post-match analysis and took questions from guests about their careers. Although it had been a low-key game, there was still plenty to discuss, particularly England's prospects in the next round against Columbia!
Regular London host Pete Graves ensured proceedings clipped along nicely, and did a fantastic job with the auctions, raising much-needed funds for our chosen charity, Cure Leukaemia. Thanks to everyone who attended, and to our VIPS for a great evening's entertainment.
Read more