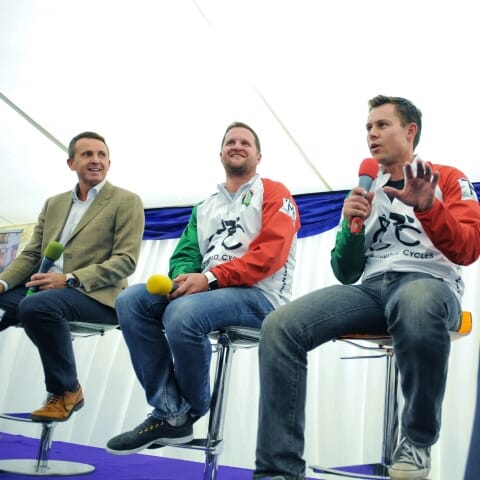 Event Showcase
/
Sporting Dinners & Lunches
PCA Dinner in Truro to launch the Big Bike Ride 2
View 15 photos
Darren Gough, Dominic Cork, Geraint Jones, Marcus Trescothick & many more!
Cricket lovers in Cornwall gathered together at Cornwall Cricket Centre in Truro, where they were treated to a star-studded cricket-themed dinner in October, to celebrate the launch of the Big Bike Ride 2. Some of the games biggest names came to do their bit, before embarking on the 400 mile ride; a plethora of former England stars including Darren Gough, Dominic Cork, Marcus Trescothick, Geraint Jones, Rob Key and Matt Maynard, were joined by a host of current players, with the likes of Matt Coles, James Harris, Hamish Marshall, Stuart Meaker, Graham Napier and Jaik Mickelberg all in attendance.
Both the Dinner and the Big Bike Ride formed part of a fund-raising drive to raise over £125,000 to be split between two great charities; the PCA Benevolent Fund, and the Tom Maynard Trurst. Leaving the very next morning, over 80 hardy riders took up the sponsored challenge of riding almost 400 miles over five days, taking in a number of cricket grounds along the way, including North Devon Cricket Club, Taunton, the Aegeas Bowl, Hove and the Kia Oval, the latter ground being the finishing line for the tired but jubilant throng.
Our host for the Dinner was the suave and sophisticated Mr David Fulton, former Kent batting stalwart and now a cricketing journalist, and he certainly had his hands full with two groups of big characters taking to the stage for a lively session of chat and Q & A. The first group up consisted of the equally debonair Dominic Cork, former England wicket-keeper and 2005 Ashes hero Geraint Jones, and Kent and England opener Rob Key. There was some great interplay, and reminisces about England teams gone by, with the guys in sparkling form. Next up came the ever shy and retiring Darren Gough, who was joined by former England openers Marcus Trescothick and Matt Maynard. Whilst it was difficult to get a word in edgeways once Goughie had the mike in his hand, the audience lapped it up as the mirth continued. Goughie even tried his hand as an auctioneer, cajoling the guests with his unique style of encouragement.
It was a brilliant night, and a real privilege for Cornish Sporting Club and Gala Events to work with Ali Prosser at the PCA, whose tireless efforts in helping to organise the Dinner were very much appreciated. All of the cricketers were such great sports, especially considering that they were off on a 400 mile bike ride at 6.30am the very next day! Our thanks go to everyone involved, it was an honour to play our part in helping to raise money for two such great causes.
Read more