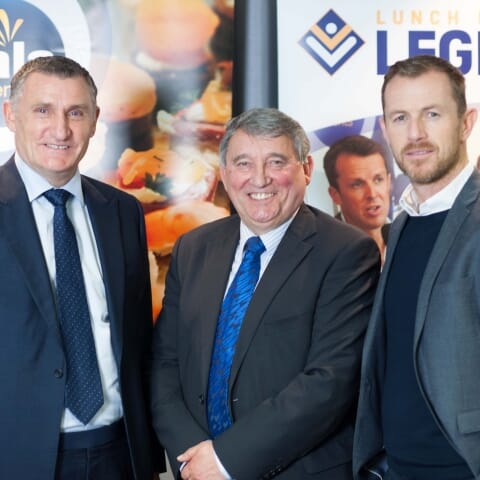 Event Showcase
/
Sporting Dinners & Lunches
An Evening with the Midlands Managers at Edgbaston!
View 15 photos
Graham Taylor, Gary Rowett, Tony Mowbray and John Gregory
We were delighted to welcome over 220 guests to our 'Evening with the Midlands Managers' at Edgbaston in November, where we had assembled some of the biggest names in Midlands football. Current Birmingham City manager Gary Rowett was joined by former Baggie and Coventry City counterpart Tony Mowbray, with ex-boss John Gregory providing the Villa connection. Making up our 'gang of four' was former England, Villa and Watford manager Graham Taylor.
It was a superb evening's entertainment, with many an anecdote shared; Taylor was in particularly good form sharing about what a great Chairman Elton John was to work for, how he broke Doug Ellis's finger by accident and Gazza asking him about getting married the day before an England game!  John Gregory talked about the infamous Villa 'legend' Bosko Balaban, the only player he had signed without seeing live and how he was the worst signing he made! However, it didn't stop the Croatian from winning the golden boot at his very next club the season after! He also told guests that he thinks that England caps are given out to easily these days, which most people in the room seemed to agree with.
Our two current managers both talked about the ups and downs of managing their current clubs, and their hopes for the future; with so many Blues fans in the room, guests were all ears as Gary Rowett revealed what it is like to manage a side on a shoestring. Tony Mowbray revealed that he 'eats, sleeps and breathes football', and even on his days off he is at games all around the country!
With Edgbaston doing its fine job with the catering as usual, and the drinks flowing, it was a great atmosphere. Host Tom Ross managed things with his usual calmness, whilst weedling as much out of our managers as possible. Our thanks go to our four special guests for making it such a special night for Midlands football fans.
Read more