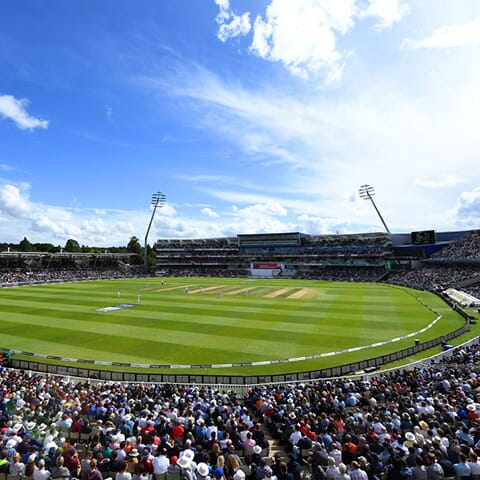 Event Showcase
/
Sporting Dinners & Lunches
England v West Indies 1st Test Hospitality
View 15 photos
Sir Viv Richards, Curtly Ambrose, Courtney Walsh and Sir Andy Roberts
It was an historic occasion at Edgbaston as the ground played host to the first ever day/night Test Match to take place in Britain. Our Wyatt Suite facility was sold out for both day 1 and day 2, with guests enjoying incredible views of the action from our private balcony seats. In the event, a hugely dominant England blew away the West Indies attack, with the side going on to cement a one-sided victory inside three days!
We were thrilled to be joined by a plethora of West Indies legends over the two days, including the likes of Sir Viv Richards, Courtney Walsh, Curtly Ambrose and Sir Andy Roberts. Hearing from four of the men who were so crucial to the dominance of the West Indies during the 1970s and 1980s was mesmerising, what the current side would've given for the three terrific fast bowlers over two days of England's batting dominance. Backed up by all-time great batsman Richards, it was a real trip down memory lane!
The first day was all about Alistair Cook and Joe Root. After snaring Mark Stoneman and Tim Westley early, the West Indies had a decent start, with Alistair Cook at the crease as Joe Root stepped into the middle with the score on 39-2. What followed will live long in the memory, as the pair dominated the attack, putting on 248 for the 3rd wicket, before captain Root fell for 136 scored from just 189 balls. Cook was far from finished, as he and Malan steered England to 348-3 by close.
Guests enjoyed a full day's top catering and complimentary bar, to compliment a hugely dominant England batting performance.
The next morning Cook and Malan picked up where they had left off, increasing their partnership to 162, before Malan fell for 65. Cook went on to score an incredible 243, with England declaring with 8 down folloing the former captain's dismissal. Although rain marred the final session, there was still time for Anderson to remove Braithwaite early, with the Windies closing on 44-1.
It was a great couple of days in the Wyatt Suite, and although the cricket was a bit one-sided, our guests enjoyed a fantastic hospitality experience, witnessing one of the great England innings by Cook.
Our thanks go to all of our guests, the cricketing legends who entertained us all, and the staff at Edgbaston for their usual quality delivery!
Read more