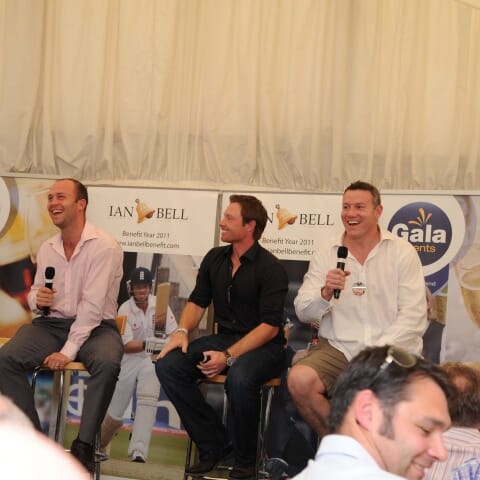 Event Showcase
/
Horse Racing Hospitality
Ian Bell Benefit Year Race Day
View 18 photos
Ian Bell, Jonathan Trott, Tim Stimpson and Paul Nixon
We teamed up with Ian Bell's Benefit Year team to put on a highly entertaining Race Day at Warwick Racecourse on Thursday 29 September 2011.
The event started with a welcome drink on arrival and a three course lunch, before England Cricketers, Ian Bell and Jonathan Trott, along with former England Rugby Union international, Tim Stimpson took to the stage for a thought provoking, but amusing Question and Answer session, with Pat Murphy from BBC Radio 5 Live.
Bell and Trott spoke about the delights of the Ashes and India series victories and about the fantastic impact Graham Gooch has had on them both, in his new role as England Batting Coach. With the 2011 Rugby World Cup in New Zealand in full swing, Stimpson spoke about England's chances and the thrill of playing in such a major tournament.
Guests enjoyed 8 races in the afternoon at Warwick, whilst the former England One Day International wicket keeper, Paul Nixon took to the stage for a highly entertaining Q & A with Murphy mid way through the afternoon.
Read more