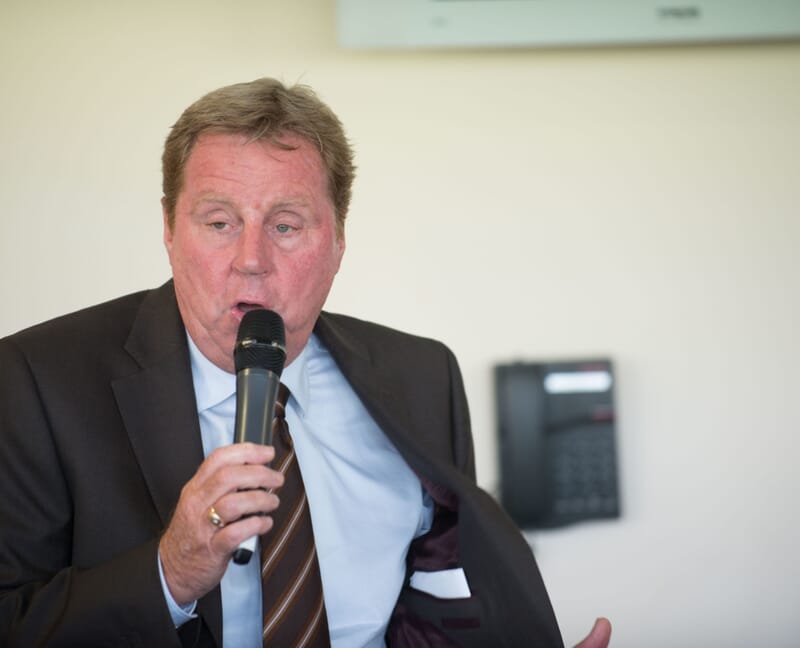 Event Showcase
/
Horse Racing Hospitality
Redknapp at the Races!
View 15 photos
Mr Harry Redknapp
Around 150 guests joined us at Windsor Racecourse for an action-packed day of horse-racing, in the company of one of England's best loved managers and football characters, Mr Harry Redknapp. With fantastic views from our suite, with its balcony overlooking the finishing line, and the course bathed in October sunshine, the stage was set for a cracking day's entertainment.
With the complimentary bar open on arrival, the atmosphere was soon buzzing, and guests soon settled down to enjoy a lovely three course lunch. With the first race fast approaching, Windsor Racecourse tipster Ed Nicholson, spoke about the racecourse, and gave his fancies for all eight races. Harry then took to the stage for the first part of his stint with SKY Sports' Adam Leventhal, regaling the audience with tales from his colourful career, before the first race took place. Harry resumed, seamlessly picking up from where he left off, having the audience in stitches.
Amongst a wealth of colourful tales, a few that stood out were his revelations about his close friendship with England's World Cup-winning captain Bobby Moore, managing the maverick talents of the likes of Italian genius Paolo Di Canio, and mercurial winger Paul Merson, and how he almost signed superstar Eden Hazard for Spurs. During the second stint on stage, guests were able to offer up questions from the floor, which Harry fielded with his usual charm and wit.
Out on the track there was an action-packed 8 race card, with the feature handicap of the day being won by 8-1 shot Deeds Not Words. It was a mixed bag for punters, with 3 favourites going in along with a sprinkling of longer shots. With fantastic views of the thrills of the finish, it really was a treat for guests to see the action at such close quarters.
All in all, a cracking afternoon; our thanks go to all our clients who made the day so successful, the team at Windsor racecourse, and most of all to Harry Redknapp for being such an entertaining and popular star turn.
Read more