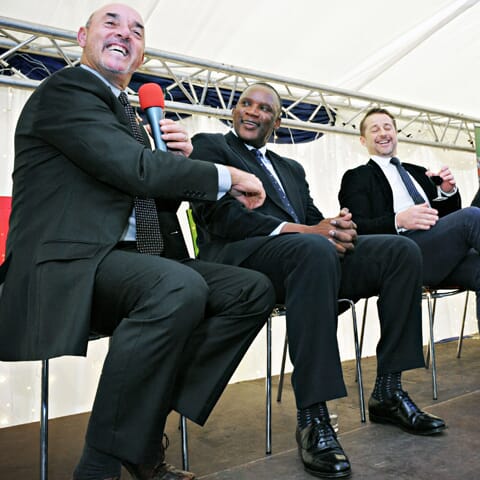 Event Showcase
/
Sporting Dinners & Lunches
An Evening with the Sporting Heroes in Truro
View 18 photos
Bruce Grobbelaar, Andy Gomersall & Devon Malcolm
Two hundred guests joined us in Truro for a superb pre Christmas Sporting Dinner featuring three former internationals in their respective sports. Goalkeeping legend Bruce Grobbelaar, a key player in the great Liverpool side of the 1980s, World Cup-winning former England scrum-half Andy Gomersall, and England fast bowling terror Devon Malcolm. All three of our Heroes took to the stage on an evening of fascinating sporting insights, and hilarious anecdotes.
After a delicious meal and a few drinks, guests were first treated to a brilliant speech from the one and only Bruce Grobbelaar, whose self-deprecating style and catalogue of great stories from his days in the most successful Liverpool side ever, had everyone in stitches. A natural with a mic in his hand, Bruce gave some great insights into playing with some of the Kop's all-time greats, including Kenny Dalglish, Alan Hansen and Ian Rush. He was also not afraid to discuss the infamous newspaper sting, and some of the crazy times from the earliest days of his career pre-Liverpool.
Up next to the stage came former England scrum-half Andy Gomersall, who featured in both the 2003 World Cup winning side, and the team that made the 2007 Final. Pint in hand, Andy gave the low-down on some of the less glorious antics of the two squads, bringing the house down with tales of some of the more "intellectually challenged" members of the team! Hearing about the 2003 Final was fascinating, particularly how the squad managed to achieve the high expectations the media had of them. He was a huge hit in the room.
For any cricket-lover in the room, the memories of Devon Malcolm's incredible 9-57 against South Africa, the sixth best Test figures ever, looms large. Devon explained that after being hit on the helmet by South African quickie Fanie De Villiers at The Oval in 1994  he responded "You guys are history!" to the Proteas' slip cordon; he proceed to destroy their batting line-up. Devon's genial delivery with the mic, was very much at odds with his delivery of a cricket ball!
Finally, host Adam Leventhal was joined on stage by all three of our sports stars, for an extended Q & A with our guests. By this time the room was buzzing, with plenty of drinks being taken and everyone having a great laugh.
The catering team once again did us proud, with a delicious three course meal enjoyed by all. Our thanks go to our three 'Sporting Heroes' for making the evening such fun, and most of all to our loyal guests who continue to support our events in Cornwall.
Read more