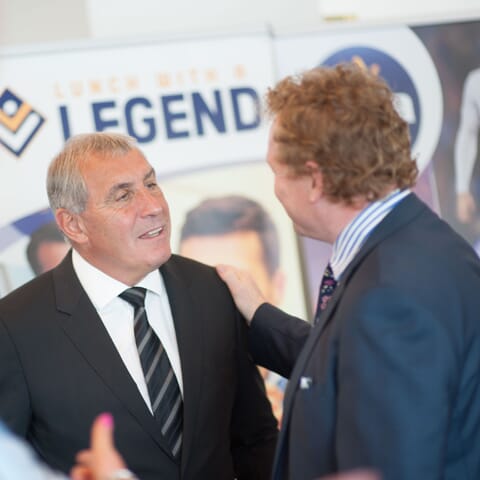 Event Showcase
/
Sporting Dinners & Lunches
Ascot Races with Shilton & Houghton
View 18 photos
Peter Shilton & Ray Houghton
We were delighted to hold a premium event in the fabulous Parade Ring Restaurant at Ascot, one of the course's most salubrious facilities. Joining us for the day were England's record caps winner and goalkeeping hero, Peter Shilton, and Republic of Ireland and Liverpool midfield star Ray Houghton. Both men are keen followers of the Sport of Kings, and we were delighted to welcome them as our VIP speakers.
The facilities at Ascot are simply magnificent, and for anyone who has never been to this famous racecourse, it is always a pleasure to see the looks of amazement on people's faces! The main grandstand houses wall-to-wall luxury, and we were thrilled to be in one of the finest venues, overlooking the Parade Ring.
On arrival, our guests were greeted by our charming hostesses with chilled Champagne, to set the day off on the right note. Peter and Ray were on hand to spend quality time with everyone, whilst our photographer gathered groups together for photographs.
With a full seven race card out on the track, there was plenty of time for people to pick out a few fancies as a delicious leisurely lunch was served. The in-room Tote Betting facility and complimentary bar were doing a roaring trade, as the excitement built.
Peter and Ray took to the stage well before the first race, with plenty of time to discuss their careers with SKY Sports host, Pete Graves. There were some cracking anecdotes; Peter had eveyone laughing about training in Spain on a traffic island as it was the only place he could dive on to grass, and other highlights of his record-breaking England career. Ray was in top form, regaling guests of tales of working with legend Jack Charlton at USA '94 World Cup finals, and playing alongside such great characters as Paul McGrath, Roy Keane and Kevin Moran. Hearing about Ray's match-winner in the legendary victory over Italy at the tournament was a treat.
The racing "kicked off" and with plenty of favourites doing the business there were a good few winners backed. A delicious afternoon tea was served later to help soak up the drink, as people split their time between the comfort of the restaurant, and the private balcony overlooking the Ascot finishing straight.
It was a memorable day, and our thanks go to the staff at Ascot who were wonderful, our special guests Peter, Ray and host Pete, and to our great clients for making it a cracker!
Read more