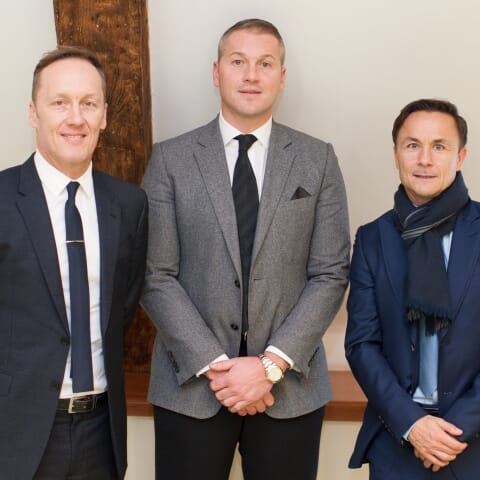 Event Showcase
/
Sporting Dinners & Lunches
Lunch with the London Legends at the Tower of London!
View 14 photos
Lee Dixon, Dennis Wise and Paul Robinson
On a stunning early winter lunch-time in December, we were thrilled to welcome almost 200 guests to the New Armouries building at the iconic Tower of London. The venue looked magnificent, and the views out over the Thames in the bright sunshine were something to behold. Joining us as our very special guests for the day were three former England internationals, and London club legends; Arsenal's Lee Dixon, Spurs' keeper Paul Robinson, and 'Mr Chelsea' Dennis Wise.
After enjoying a welcome drink, guests settled down to a fine lunch served with style in Royal surroundings. With the complimentary bar flowing freely, the atmosphere in the room warmed up quickly. SKY Sports' host, the debonair Pete Graves, worked through the formalities and presided over the auctioning of a few prize lots, which sparked a bidding war between rival football fans, much to everyone's amusement.
Our three Legends then took to the stage with Pete, and proceeded to partake in a remarkably candid hour of cracking football banter. Lee Dixon, unlike his more reserved pundit persona on the TV, was in strident form, taking particular pleasure in Chelsea's current plight, much to the annoyance of the man opposite him, Mr Dennis Wise! He talked with relish about what it was like to play in Arsenal's miserly back four during his long career at Highbury, his England career, and London club rivalries.
Never one to be seen taking abuse, Dennis gave as good as he got, with some memorable exchanges with both Lee and Paul. It was fascinating to hear about his personal number one highlight in his career, lifting the FA Cup in 2000, with his baby son in his arms. He also touched on some of the more controversial aspects of his career, and was refreshingly honest in his appraisal of some of his more ribald antics. Hearing about the Crazy Gang at Wimbledon, and the unforgettable run to the 1987 FA Cup triumph, was amazing, and learning about the massive characters in that infamous side was fascinating.
Despite this being Robbo's debut as a speaker at a sporting event of this type, he was quite superb, sharing some cracking anecdotes about his playing career, and comfortably mixing it with his more grizzled compatriots! The winner of over 40 caps for England, it was great to hear about the contrasting approaches of the England managers he played under, as well as some of the unusual approaches of some of his club managers as a young player!
Gala regulars agreed that this was certainly one of our best ever events, with a magnificent venue, cracking food and great stage work by Pete Graves, and our three 'Legends'. Our thanks go to everyone involved for making the event such a memorable one.
Read more