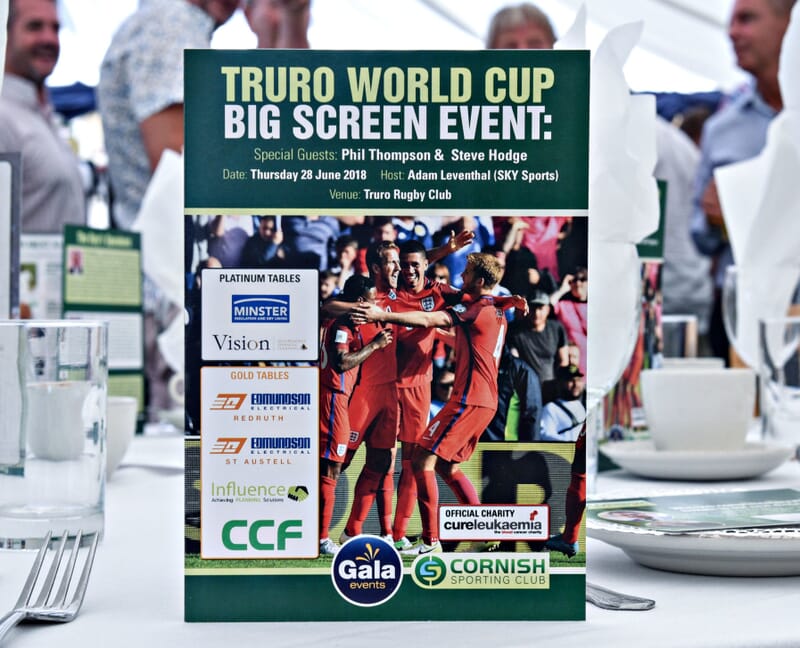 Event Showcase
/
Sporting Dinners & Lunches
Truro World Cup Big Screen Event: England vs Belgium
View 26 photos
Phil Thompson and Steve Hodge
With the momentum really building in a fantastic World Cup in Russia, we were joined in our luxury marquee at Truro Rugby Club by over 170 guests for giant screen coverage of the third group game between England and Belgium. Our VIP guests for the day were Liverpool and England legend and Sky Sports pundit Phil Thompson, and former Aston Villa, Nottingham Forest, Spurs and England winger, Steve Hodge.
On an absolutely gorgeous day, guests were thankful of the lawned area in front of the marquee, where plenty of cold beers were taken in the heat! After a delicious three course dinner, our VIP guests took to the stage to discuss their careers and give their pre-match thoughts. It was fascinating to hear from Phil who had the honour of playing under Bill Shankly in the early part of his Liverpool career, and there were plenty of amusing anecdotes about how Shanks kept the players egos in check! Guests also heard from Steve about playing in the infamous quarter-final against Argentina in 1986 where England were knocked out by the brilliance of Maradona, with a lot of help from the 'Hand of God'.
There was a lot of good-natured ribbing of Steve by Phil about the fact the England winger ended up with Maradona's shirt after the game: "It was the closest Steve got to him all match" was one aside from the Kop legend! Steve took it all in his stride, and both men felt this was not a bad fixture for England to lose, with the winner set to play Brazil if things panned out. It was also fascinating to hear from Steve about life under another managerial legend, Brian Clough, who twice signed the winger whilst at Nottingham Forest.
In the event, this was what happened, as a low-key game was settled by a brilliant strike from former Man Utd youngster Adnan Januzaj, with both teams resting the majority of their key men. This didn't stop there being a great atmosphere in the marquee, as fans crowded around the state-of-the-art giant screen showing the match in high resolution. At the final whistle our two guests took to the stage again for some post-match analysis, and took questions from guests about their careers. Phil was in full flow stood with mike in hand as he gave the low-down of life at Anfield during the club's most successful period.
Host Adam Leventhal ensured proceedings clipped along nicely as always, and did a fantastic job with the auctions, raising much-needed funds for our chosen charity, Cure Leukaemia. Thanks to everyone who attended, and to our VIPS for a great evening's entertainment.
Read more