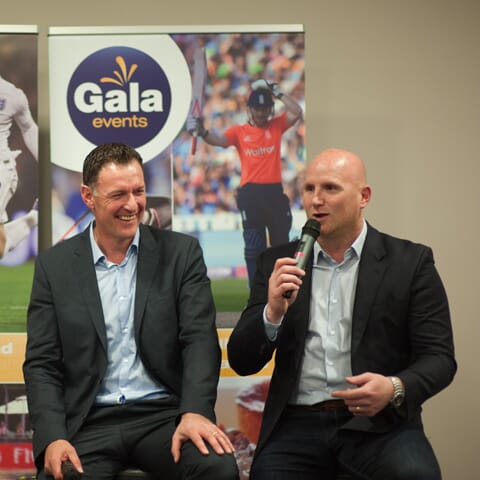 Event Showcase
/
Golf Hospitality
The Gala Golf Classic 2016 at Woburn
View 17 photos
John Hartson & Chris Sutton
The Gala Golf Classic is now a firm favourite in our events calendar. In 2016 the event moved to Woburn Golf Club, one of the country's finest golfing venues, where our VIP guests were former Premier League strikers, and keen golfers, John Hartson and Chris Sutton, who also played together for Celtic.
After arriving for lunch, guests enjoyed a round on the fabulous Marquess' Course on day one; home of the 2015 British Masters, the Course was designed by Peter Alliss and Clive Clark, European Golf Design and Alex Hay and opened in 2000. Set within 200 acres of mixed woodland, the Marquess's course overlaps the county boundary dividing Bedfordshire and Buckinghamshire and presents a variety of rolling and undulating terrain. It certainly presented a stern test for our large group, but there were some cracking individual and team performances on a day of friendly rivalry!
On departing Woburn, guests checked in to the Doubletree by Hilton, a short drive away in Milton Keynes. Our three course Gala Dinner featured both Chris and John on stage, discussing their respective careers and the state of the modern game. Mr Hartson took plenty of good-natured stick for the fact he'd already practised on the course, having played another golf day on the Marquess Course only a few days earlier! The two men worked really well together on stage, as they did during their time playing for Celtic up front in the early 2000s.
Both of our stars shared plenty of great anecdotes from their respective careers at the top of the game. Chris Sutton won the League title with Blackburn Rovers in 1991/92, and it was fascinating to hear about his experiences playing alongside one of England's greatest ever strikers, Alan Shearer. He and Alan teamed up in the hugely effective 'SAS' partnership, which played a huge role in securing the title. Chris worked under Kenny Dalglish, for four years, and he rates him the greatest manager he ever played for.
It was great to hear about John's early career as a youngster with Arsenal, playing with some absolute legends of the club such as Dennis Bergkamp and Tony Adams, and his prolific spell at West Ham which included a rather infamous incident with Eyal Berkovic. John also shared some inspirational insights into his battle with testicular cancer, which almost claimed his life. It was genuinely moving to hear the big man talk about this tough time for him and his family.
After a hearty breakfast the following morning the group headed the delightful Aspley Guise & Woburn Sands Golf Club for another round, before the trophy presentations to the leading individual and team of the day. All round, a top couple of days with plenty of great golf, and a dinner with our two stars which will live long in the memory!
Read more